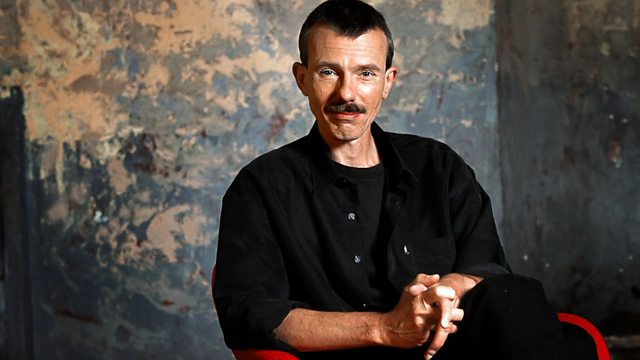 12/04/2012
Jonathan Swain presents a concert by the Henschel Quartet including Schubert's mighty Death and the Maiden quartet and a quintet for guitar and strings by Castelnuovo-Tedesco.
12:31 AM
Shostakovich, Dmitry [1906-1975]
Quartet no. 7 in F sharp minor Op.108 for strings
Henschel Quartet
12:44 AM
Castelnuovo-Tedesco, Mario [1895-1968]
Quintet Op.143 for guitar and string quartet
Jesper Lützhöft (guitar), Henschel Quartet
1:08 AM
Schubert, Franz [1797-1828]
Quartet in D minor D.810 (Death and the maiden) for strings
Henschel Quartet
1:46 AM
Mozart, Wolfgang Amadeus [1756-1791]
Partita in E flat and Rondo for wind octet
The Festival Winds
2:12 AM
Bruckner, Anton [1824-1896]
Ave Maria
Tallinn Boys Choir, Lydia Rahula (conductor)
2:16 AM
Beethoven, Ludwig van [1770 -1827]
Country dance no.1 for wind quintet
Yur-Eum Woodwind Quintet
2:19 AM
Strauss (ii), Johann [1825-1899]
An der schonen, blauen Donau - waltz for orchestra (Op.314) 'The Blue Danube'
BBC Philharmonic, Vassily Sinaisky (conductor)
2:31 AM
Strauss, Richard [1864-1949]
Oboe Concerto in D major
Hristo Kasmetski (oboe), Bulgarian National Radio Symphony Orchestra, Alexander Vladigerov (conductor)
2:58 AM
Rinck, Johann Christian Heinrich [1770-1846]
9 Variations and Finale on 'Ah, vous dirai-je, Maman' (Op.90)
Willem Poot (organ)
3:17 AM
Schubert, Franz [1797-1828]
3 Lieder
Daniela Lehner (mezzo-soprano), Love Derwinger (piano)
3:26 AM
Villa-Lobos, Heitor [1887-1959]
Prelude for guitar no.1 in E minor
Norbert Kraft (guitar)
3:31 AM
Auber, Daniel-Francois-Esprit [1782-1871]
Overture to Fra Diavolo - opera
Bratislava Slovak Radio Symphony Orchestra, Ondrej Lenárd (conductor)
3:39 AM
Saint-Saens, Camille [1835-1921]
Havanaise (Op.83) arr. for violin and piano
Vilmos Szabadi (violin), Marta Gulyas (piano)
3:48 AM
Bárdos, Lajos [1899-1986]
Winter is gone (Elmúlt a tel)
Hungarian Radio Choir, Lajos Bárdos (conductor)
3:53 AM
Albinoni, Tomaso [1671-1750]
Oboe Concerto in D minor (Op.9 No.2)
Carin van Heerden (oboe), L'Orfeo Barockorchester, Michi Gaigg (director)
4:04 AM
Chopin, Fryderyk [1810-1849]
Impromptu in F sharp major (Op.36)
Krzysztof Jablonski (piano)
4:10 AM
Farkas, Ferenc [1905-2000]
5 Ancient Hungarian Dances for wind quintet
Galliard Ensemble
4:20 AM
Casanova, Gion Balzer [194?-]
La sera sper il lag (Evening on the Lake)
Cantus Firmus Surselva, Clau Sherrer (director)
4:23 AM
Dvorak, Antonin [1841-1904]
Song to the Moon from Rusalka (Op.114)
Yvonne Kenny (soprano), Melbourne Symphony Orchestra, Vladimir Kamirski (conductor)
4:31 AM
Schumann, Robert [1810-1856]
Manfred - incidental music Op.115 (Overture)
Danish National Radio Symphony Orchestra, Michael Schønwandt (conductor)
4:44 AM
Fischer, Johann Caspar Ferdinand [c.1670-1746]
Polymnia - Suite No.8 in D major
Bob van Asperen (harpsichord)
4:51 AM
Petersson, Per Gunnar (b.1954) [b.1954]
Aftonland (Evening Land) for choir, solo horn and solo
Soren Hermansson (horn), Jutland Chamber Choir, Mogens Dahl (director)
5:05 AM
Vivaldi, Antonio [1678-1741]
Concerto in D minor for 2 violins, cello and orchestra (RV.565) (Op.3, No.11)
Slovenian Radio Television Symphony Orchestra, Pavle Despalj (conductor)
5:16 AM
Beethoven, Ludwig van [1770 -1827]
6 Variations in F major (Op.34)
Theo Bruins (piano)
5:31 AM
Boccherini, Luigi [1743-1805]
Quintet for guitar and strings (G.448) in D major
Zagreb Guitar Quartet, Varazdin Chamber Orchestra
5:50 AM
Musorgsky, Modest [1839-1881], orch. Shostakovich
Prelude and Dance of the Persian Slaves from Khovanschina
Sofia Symphony Orchestra, Ivan Marinov (conductor)
6:04 AM
Dukas, Paul [1865-1935]
Villanelle for horn and piano
Tamás Zempléni (horn), Zoltán Kocsis (piano)
6:11 AM
Guerrero, Francisco [c.1528-1599]
Prado verde y florido
Montserrat Figueras (soprano), Maite Arruabarrena (mezzo-soprano), Lambert Climent (tenor), Francesc Garrigosa (tenor), Hesperion XX, Jordi Savall (director)
6:16 AM
Glazunov, Alexander Konstantinovich [1865-1936]
Concerto in E flat major Op.109 for alto saxophone and orchestra
Virgo Veldi (saxophone), Tallinn Chamber Orchestra, Tarmo Leinatamm (conductor).
Last on