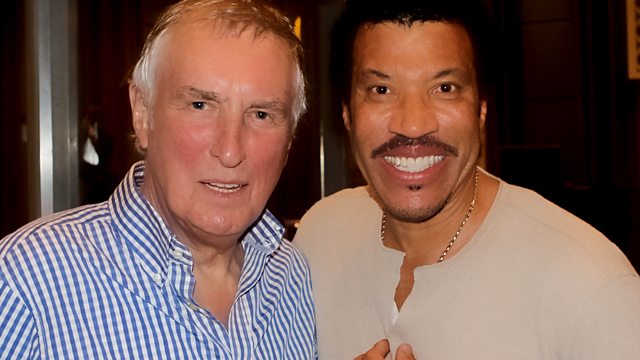 Can't Slow Down - Johnnie Walker Meets Lionel Richie
In the latest in this occasional series, Johnnie Walker interviews Lionel Richie at a piano in the BBC's Maida Vale studios. In a wide-ranging conversation, beginning with his early days in Tuskegee, Alabama, Lionel takes Johnnie through his life in music.
Lionel remembers forming The Commodores, signing to Motown, and their success with sales of over 75 million records worldwide, from funky hits such as Machine Gun and Brick House, onto the beautiful ballads Easy, Three Times A Lady and Still.
Songwriting commissions were to follow: Lady for Kenny Rogers and an Oscar and Golden Globe nomination for Endless Love, his duet with Diana Ross. This ultimately, led to a solo career, and worldwide fame. Never one to miss out on a golden opportunity, Motown boss Berry Gordy "encouraged" Lionel to branch out.
And so he did, producing hit after hit, from Truly, You Are, All Night Long, Hello, Running With The Night, and Say You, Say Me, for which he won the Oscar for Best Original Song. In between those hits he also co-wrote We Are The World with Michael Jackson, which raised funds for the victims of famine in Africa, and earned him the Humanitarian Award from Harvard University.
Lionel discusses reforming The Commodores, a group he didn't really want to leave in the first place. But his latest release re-visits 13 of his greatest hits as duets, with guest performers including Willie Nelson, Kenny Rogers, Darius Rucker, and Shania Twain. The country-based album is called Tuskegee, which brings us full circle and back to his Alabama home.
His energy and love for music continue to inspire, as this interview explains why the legendary artist "Can't Slow Down".