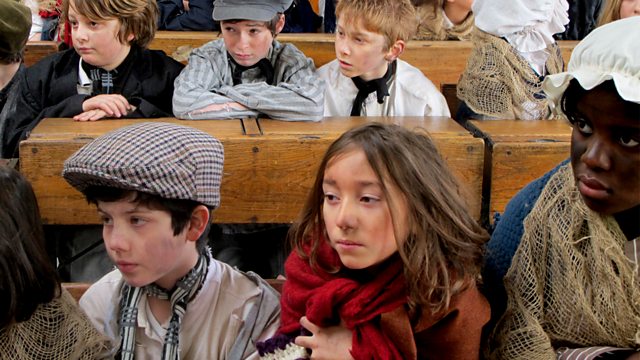 Live from the 19th century, Charles Dickens hosts a chat show. His famous Victorian guests include Doctor Barnardo, Mary Seacole and Queen Victoria.
With a nod to popular magazine programmes like The One Show - and recorded in its London studio - The Charles Dickens Show sees the celebrated author interview A-list guests of the Victorian era like reformers Lord Shaftesbury and Dr Thomas Barnardo, nurses Florence Nightingale and Mary Seacole, and even Queen Victoria herself.
What was life really like for Victorians? The Charles Dickens Show bursts with shocks, laughs and fascinating facts. Dickens, his roving reporter Nelly and a string of famous guests telly-port us back into a world that's dirty, dangerous and often deeply strange. Special reports include a video diary shot undercover by an orphan in a workhouse; interviews with mudlarks and purefinders on London's mean streets; Ask The Doctors, where Joseph Lister takes on the traditionalists; and Mrs Beeton's guide to Christmas Day.
In this episode, Charles Dickens and reforming peer Lord Shaftesbury discuss child labour. With a location report from the streets of London, where young children ply their trades, questions from Ragged School kids, and an interview with a dastardly factory owner.
Last on