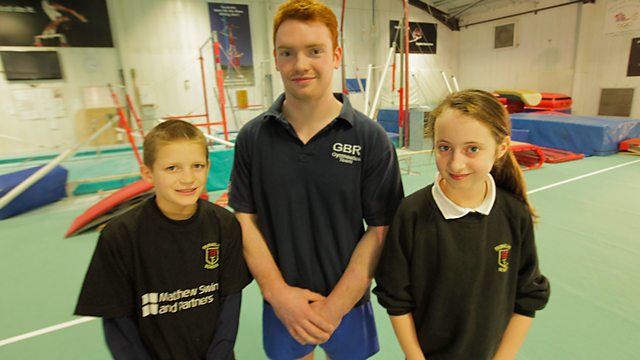 Without mathematics, sport just wouldn't exist. Things like time-keeping, scoring, speed, distance, and probability are all underpinned by mathematics. Produced with input from the University of Cambridge Millennium Mathematics Project, 3, 2, 1, Go! sees children solve problems given to them by their sporting heroes. In the classroom, children watching can then be set challenges of their own. 3, 2, 1, Go! aims to make mathematics fun while being firmly set in the real world of sport in general and the Olympics in particular.
All told, 3, 2, 1, Go! takes 30 lucky children into the mathematical world that underpins their favourite sport. They are taken to some of the greatest sporting locations across the UK, swept up on a behind-the-scenes tour of the venue and get to meet a sporting legend. But the spotlight soon turns to them as they are set a challenge where they will have to get to grips with some real mathematics. Will they complete their challenges and win the gold medal?
In this episode, gymnastics fans Jack and Courtney get to try out all of the equipment at the Olympic-accredited Heathrow Gym and are set their shape and symmetry challenge by national champion Daniel Purvis. Young cyclists Marek and Grace get to see the GB indoor cycling team training at the Manchester Velodrome and are given a timing challenge by multiple gold medal winner Sarah Storey. Budding footballers Thomas and Zahida are taken to the Arsenal training centre to meet their sporting heroes and take on their scoring challenge. Rowing fans Lili May and Solomon visit the national training centre by the River Thames, to meet Olympic rower Anna Watkins and undertake their multiplication challenge. Finally, rugby fans Callum and Kavelle are taken to the Millennium Stadium in Cardiff to meet two of the Wales national rugby team and are given a measuring challenge.
Will these young sports people complete their challenges and go home with gold?
Last on
Credits
| Role | Contributor |
| --- | --- |
| Narrator | Mark Chapman |
| Producer | Diana Hill |
| Assistant Producer | Suzy Boyles |
Featured in...
Short films about science, technology, engineering and maths for students aged 7-11.