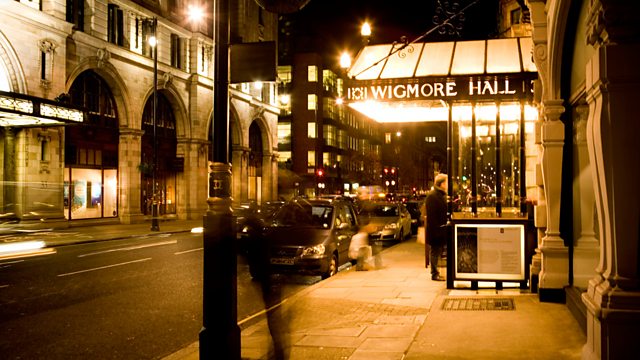 Songs by Schumann, Brahms, Mahler and Wolf
Presented by Petroc Trelawny
Live from Wigmore Hall in London
Joan Rodgers and Roderick Williams join Roger Vignoles for a recital of songs by Schumann, Brahms, Mahler and Wolf.
Continuing his 'Perspectives' concert series, Roger Vignoles has enlisted two of the most highly acclaimed British voices of today for a programme of German Lieder. Soprano Joan Rodgers and baritone Roderick Williams spar in a selection from Hugo Wolf's set of exquisite miniatures known as the Italian Songbook: his settings of Italian folk poetry translated into German which allow the melancholy twilight and boisterous sunshine of their home country to shine through.
The folk poetry of southern Germany's rolling green hills inspired Mahler's 'Des Knaben Wunderhorn', which provides the bulk of the first half of tonight's concert, alongside a lovingly chosen smattering of songs by the two great friends Brahms and Schumann.
Schumann: Er ist's; Lied der Suleika; Das verlassne Mägdelein; Die Kartenlegerin
Brahms: Geheimnis; Nachtigall; Feldeinsamkeit; Botschaft
Mahler, from 'Des Knaben Wunderhorn': Rheinlegendchen; Ich ging mit Lust; Das irdische Leben; Des Antonius von Padua Fischpredigt; Wo die schönen Trompeten blasen; Lob des hohen Verstandes
interval
Wolf, from 'Italienisches Liederbuch': Ihr seid die Allerschönste; Wie soll ich fröhlich sein; Was soll der Zorn, mein Schatz; Mein Liebster ist so klein; Schon streckt' ich aus im Bett; Mein Liebster singt am Haus; Ein Ständchen euch zu bringen; Geselle, woll'n wir uns in Kutten hüllen; Wie lange schon; Und willst du deinen Liebsten sterben sehen; Du denkst mit einem Fädchen mich zu fangen; Wer rief dich denn?; Der Mond hat eine schwere Klag' erhoben; Wohl kenn ich Euren Stand; Heut' Nacht erhob ich mich; Wir haben beide lange Zeit; Wie viele Zeit verlor ich; Ich hab in Penna einen Liebsten.
Last on