Ann Olivier - Clothes for disabled women

Frustrated at not being able to find glamorous clothes that would also be practical to wear in her wheelchair, Ann Olivier decided to design her own. Jenni talks to Ann about her designs for the Xeni Collection, the company she's set up to sell her clothes.

Breasts - how much cleavage is too much?

The BBC Breakfast presenter Susanna Reid criticised for showing a bit of cleavage replied that she was baffled by the fuss - people seem to be shocked that women have breasts. A recent poll suggested that one in seven women admitted to wearing plunging necklines in the workplace to give their career a boost. To discuss where you should draw the line Jenni is joined by the fashion historian Caroline Cox and the broadcaster, novelist and former GMTV presenter Penny Smith.

Plucking and grooming

How much time do you spend on improving your looks with potions, plucking and even plastic surgery? Is it a healthy sense of vanity or an act of narcissism? Jenni is joined by journalist Charlotte Raven and Daily Mail columnist, Liz Jones to discuss whether we should reject today's elaborate beauty regimes.

Punk cancer

Performance artist Tutu was diagnosed with breast cancer in 2009. She found she had little in common with the 'pink' images associated with the disease so decided to start documenting her cancer in a more 'punk' way - with 'energy, action, anger'. A photographer followed her from first diagnosis, through mastectomy and treatment. She died on the 28th March 2012. Now there's an exhibition of the 'Punk Cancer' photographs online - the pictures are bold and sometimes shocking. Jenni is joined by writer Stephanie Theobald to talk about her friend Tutu.

DIY Beauty - facials

If you do decide your face is worth the effort of keeping in the best condition possible, you might decide to shell out some cash to be pampered at a salon. Or, more cheaply, you can do it yourself. Sali Hughes, who writes, blogs and tweets about Beauty for The Guardian, invited Judi Herman to her home in Brighton to show her how it's done.
Woman's Hour Power List 2014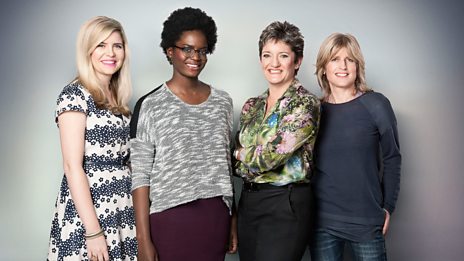 Identifying the top ten game changers operating in the UK today.
Free downloads
Discover cooking techniques and tips to help you perfect your cooking know-how. Jenni Murray and…

Which ten women in the UK have done most to game-change the way power operates in the UK, whether in…

Woman's Hour brings you the big celebrity names and leading women in the news, with subjects ranging…