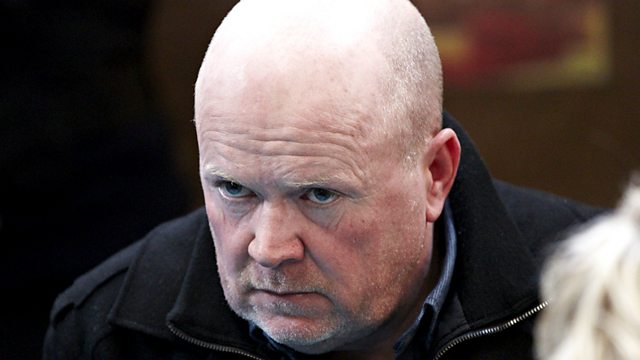 21/03/2012
As the Mitchells wait for Shirley, Ben makes jibes about Heather. Phil pulls Ben aside, worried he's looking suspicious. Ben's adamant they need to go to Heather's to account for their fingerprints. Shirley appears with George, in shock, her hands covered in blood. Phil, Billy and Ben hurry to Heather's. Jay holds back but eventually follows. Discovering Heather's body, Phil tells Billy to phone an ambulance and sends Ben and Jay to search for George's coat. Jay watches, sickened, as Ben pleads with Heather to get up. Shirley dashes to Heather's as police arrive, and wails with grief as paramedics pronounce 'life extinct'. Roxy notes her coat's missing. DS Crisp questions witnesses in McKlunky's, Jay struggles to answer. Hysterical, Shirley lashes out, insisting no-one touch Heather. At the police station, Phil, Shirley, Jay, Ben and Billy submit their clothes for DNA evidence. Phil worries to learn the police suspect the burglary was faked. As the boys are split up for questioning, Ben reassures a nervous Jay they're in this together.
Melancholy Andrew sits in the park contemplating the envelope of money with two wedding rings inside. Encountering a drunken vagrant in the toilets, Andrew helps him outside. Andrew confesses his troubles, the man wonders what Andrew's waiting for. Andrew hurries off but soon realises the money's missing. Back at the park, he finds only the empty envelope. Arriving at Heather's, Andrew fights his way past police, kneels next to Heather's body and sobs.
Rose is little help to Dot and Cora when repairing Heather's dress. Patrick's pleased with his father of the bride speech. Rose declares she won't have Heather ignore her forever. Out in search of sherry for Dot, Patrick and Rose are alarmed to see police gathered outside Heather's. Phil tells them Heather's dead.
Last on
Credits
| Role | Contributor |
| --- | --- |
| Phil Mitchell | Steve McFadden |
| Shirley Carter | Linda Henry |
| Billy Mitchell | Perry Fenwick |
| Jay Mitchell | Jamie Borthwick |
| Ben Mitchell | Joshua Pascoe |
| Andrew Cotton | Ricky Grover |
| Rose Cotton | Polly Perkins |
| Patrick Trueman | Rudolph Walker |
| Roxy Mitchell | Rita Simons |
| Dot Branning | June Brown |
| Executive Producer | Bryan Kirkwood |
| Director | Nic Phillips |
| Writer | Jesse O'Mahoney |
| Cora Cross | Ann Mitchell |
| Lola Pearce | Danielle Harold |
| Heather Trott | Cheryl Fergison |
| Gerry | Michael Elliott |
| DS Crisp | Rufus Wright |
| DC Swinton | Laura Dalgleish |
| PC Shaw | Daniel Millar |
| PC Ali Psyk | Yvonne Dodoo |
| Paramedic | Melissa Dean |