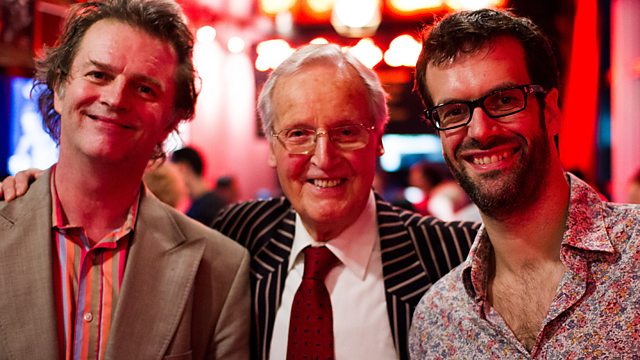 CELEBRATING 45 YEARS OF HISTORY
Broadcaster Nicholas Parsons regularly welcomes 'our many listeners around the world.' To mark the flagship show's 45 year anniversary, Nicholas and his team have decided to let some of the listeners welcome them.
Along with regular Just a Minute panelists Paul Merton and Marcus Brigstocke, the show's host Nicholas Parsons, travelled to India to celebrate and highlight Just a Minute's unique and continuing popularity across the globe.
Just a Minute's two special anniversary Indian shows were recorded in front of a lively, excited and sometimes unusually vocal audience of Mumbai urbanites. Topics up for discussion on the show include 'Mumbai Traffic,' the phrase 'It's Just Not Cricket' .
Just a Minute regulars Paul Merton and Marcus Brigstocke are joined by top Indian comedy talents, Cyrus Broacha and Anuvab Pal. Cyrus Broacha is a Prime-time TV host as well as actor, writer and comedian. He is best known for his show 'Bakra' on MTV and 'The Week that Wasn't' on CNN-IBN. Anuvab Pal is a leading star in India's new wave of stand up Comedy, performing regularly in Mumbai, Delhi and Bangalore. Multi-talented, he performs stand-up in addition to his other careers as an internationally renowned playwright, screenwriter and journalist for Reuters.
JUST A MINUTE'S INDIAN ADVENTURE (02nd April, R4, 11.30AM).
Just a Minute grew to prominence in India when it became available to Indian audiences via the BBC World Service. This exposure gave birth to a number of 'Indianised' versions of the game, which continue to be played amongst smart, young, Indian college graduates today. Dubbed 'JAM' sessions, they are a testament to the show's present-day popularity and transnational appeal.
As part of the Radio 4 Just a Minute anniversary celebration, BBC Radio 4 will also broadcast a special documentary on these JAM sessions. The documentary follows a group of lively young Indian college students as they prepare for a competitive JAM tournament against their peers at the Indian Institute of Management in Bangalore.
To see photos and video clips of these shows please go to: http://www.bbc.co.uk/programmes/b006s5dp.
Last on
More episodes
Next
You are at the last episode