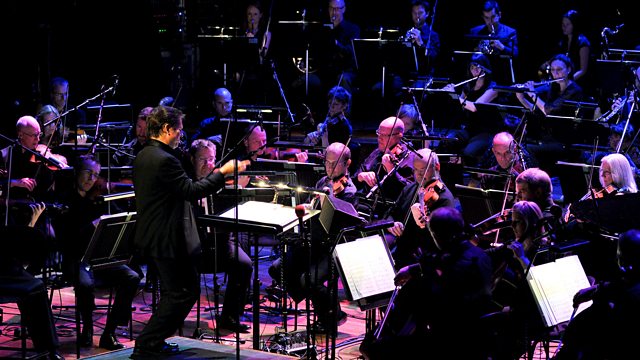 BBC Concert Orchestra Celebrating 60
Ken Bruce presents the final programme in this series celebrating 60 years of the BBC Concert Orchestra.
So far the series has featured this versatile band of BBC musicians playing Rhapsody in Blue with Dudley Moore; Born Free with Matt Monro; Hungarian Rhapsody with Sidney Torch; The Desert Song with John Hanson; Hello Dolly with John Barrowman; and Dancing on the Ceiling with Lionel Richie. Their musicianship has no bounds.
Tonight's final archive concert finds them back in classical territory and, as an early salute to Her Majesty's own Diamond Jubilee, we feature a special Friday Night is Music from 2006 which marked the Queen's 80th birthday .
It celebrates young British musical talent of the time with guests including English tenor Andrew Kennedy and Irish soprano Ailish Tynan. In 2006 they were both beginning to make their mark in the classical music world - today they are both seasoned BBC Proms performers and concert soloists. The guest instrumentalist meanwhile, Benjamin Grosvenor, opened last year's Proms season playing Liszt. In this special Friday Night is Music Night from 2006 he plays the beautiful Larghetto from Chopin's Piano Concerto No 2 - he was just 13 years old.
Brian Kay presents and Robin Stapleton conducts the orchestra in some regal favourites including William Walton's great coronation marches Crown Imperial and Orb and Sceptre; and the Nursery Suite by Elgar, which was written in 1931 and dedicated to their Royal Highnesses the Duchess of York, and the Princesses Elizabeth and Margaret Rose.
After the Easter break the BBC Concert Orchestra return for a birthday gala on 13 April, featuring Sir Willard White and conducted by their current principal conductor Keith Lockhart. In June they will perform at the Diamond Jubilee concerts at Buckingham Palace, there will be another busy summer of Proms and, of course, Radio 2's Friday Night is Music Night.
Last on