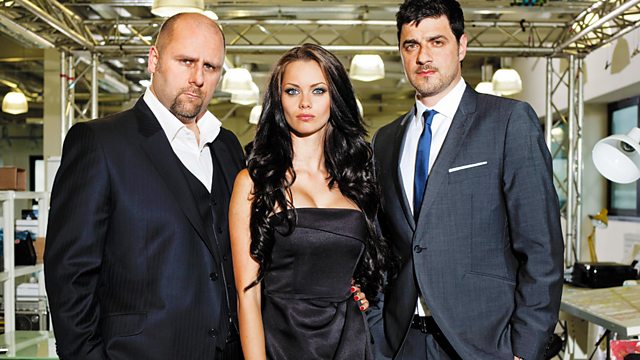 Hustlers Jessica Jane Clement, Alexis Conran and Paul Wilson are back with another series of The Real Hustle. Together they have carried out over 500 scams and stolen over £1,000,000, making this the most successful scam show of all time.
Joined by new recruits Polly Parsons and Jazz Lintott plus a host of celebrity guest hustlers, their job is to expose the tricks of the criminals' trade so that you don't get scammed.
Blue Peter star Konnie Huq joins the Hustlers in a get-rich-quick scam that seems just too good to be true. Paul, playing the owner of a beautiful Scottish castle, is offering time-share deals to private individuals. The rest of the Hustlers are in on the act and are hoping to convince the mark that, by selling off a week of his newly-acquired time to Konnie and Jess, he can make a lot of money. Will the mark take the bait?
Jess and Alex attempt to pull off a devious car scam by convincing a mark that he would be doing Jess a massive favour by holding on to her cash as she goes to take a test drive.
Last on
Credits
| Role | Contributor |
| --- | --- |
| Presenter | Alexis Conran |
| Presenter | Paul Wilson |
| Presenter | Jessica-Jane Clement |
| Presenter | Polly Parsons |
| Presenter | Jazz Lintott |
| Participant | Konnie Huq |
| Narrator | Tom Oldham |
| Executive Producer | Matt Crook |
| Executive Producer | Andrew Newman |
| Executive Producer | Anthony Owen |
| Series Producer | Fiona White |
| Executive Producer | Martin Turner |