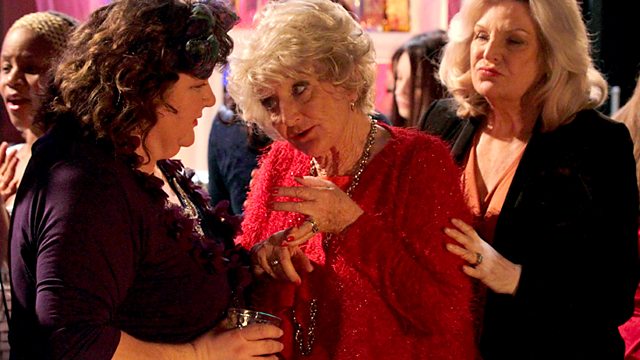 16/03/2012
The girls aren't impressed with Dot's low key hen night. Heather tells Shirley she has doubts about marrying Andrew. The girls head for R&R. Shirley tells Andrew to stay away. Patrick's organised a stag do for Andrew at the Vic with Billy, Jay, Alfie and Ray. Each stag has a printed blue hoody. Dot gives Heather an envelope of money. Drunk, Rose is thrown out of R&R. The hen party film the evening. Dot makes a speech, embarrassing DJ Fat Boy. Andrew phones Heather; Shirley cancels the call. Shirley's worried everything will change; Heather reassures her and the friends dance. Andrew arrives during the stripper's performance. Shirley winds Andrew up telling everyone he's been inside, insisting he's not wanted and throwing a drink over him. Andrew follows Shirley to the office. She goads him until he violently punches the wall, unaware Heather's watching. Andrew follows Heather, fed up with everyone interfering - it's their lives. He explains he went to prison for putting his mum's violent ex in hospital. Andrew finds Rose wearing Heather's wedding dress and rips it off, furious. Shirley gives Heather a photo of them in a 'best friends' frame. Heather explains if Shirley can't accept she loves Andrew she'll have to find another best mate. Shirley's adamant if Heather walks away they're finished. Heather leaves with Andrew.
Ben writes a Mothers' Day card. Ian talks to Jay about Ben, then Patrick about Paul. Patrick thinks he should have turned Paul in. Going to the Police station, Ian tells Marsden that Ben lied - Phil's innocent. Ian's ungrateful about Mandy's cooking efforts so she goes to Heather's hen do, unaware a strange man who's been watching the Beales' is following her.
Although claiming she's indifferent, Kim's desperate for Ray to text, but when he does she's asleep on a market stall.
Last on
Credits
| Role | Contributor |
| --- | --- |
| Ian Beale | Adam Woodyatt |
| Ben Mitchell | Joshua Pascoe |
| Heather Trott | Cheryl Fergison |
| Shirley Carter | Linda Henry |
| Andrew Cotton | Ricky Grover |
| Rose Cotton | Polly Perkins |
| Dot Branning | June Brown |
| Arthur 'Fat Boy' Chubb | Ricky Norwood |
| Cora Cross | Ann Mitchell |
| Billy Mitchell | Perry Fenwick |
| Jay Mitchell | Jamie Borthwick |
| Denise Fox | Diane Parish |
| Kim Fox | Tameka Empson |
| Ray Dixon | Chucky Venn |
| Patrick Trueman | Rudolph Walker |
| Alfie Moon | Shane Richie |
| Mandy Salter | Nicola Stapleton |
| Alex | Michael Vivian |
| DCI Marsden | Sophie Stanton |
| Executive Producer | Bryan Kirkwood |
| Director | Nigel Douglas |
| Writer | Matt Evans |