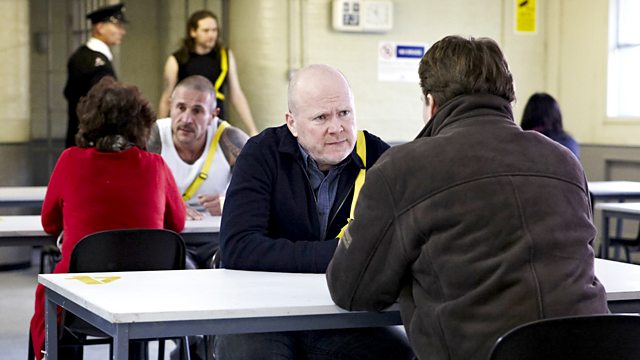 15/03/2012
Whilst Tanya and Max are with the consultant, Cora distracts Lauren with stories of Tanya's youth. They're thrilled to learn the scan was clear; the cancer's gone. Put out that Jack was told the news, not him, Derek engineers a family celebration where he holds court and makes a speech. Tanya slips away; Lauren asks her what's wrong. Tanya admits she should be over the moon but is frightened - the cancer could come back. Lauren reassures her mum, they hug and Max joins them. Grabbing a knife, Tanya starts destroying the sofa. The family are alarmed, but when she explains the sofa was her prison while she was ill they join in, happy to see her so cheerful.
Ben rushes out of prison. Left alone, Phil and Ian insult one another. Returning home, Ian's astonished to find Ben baking. He admits he didn't tell Phil anything, but insists he'll tell Marsden the truth if Ben doesn't. Ben calls Ian's bluff, telling Marsden nothing, but Ian doesn't go through with his threat. Giving Ian a cake, Ben tells him they make a good team.
Andrew sees Heather's wedding dress box and she worries it will jinx everything. Rose's scathing, irritating Andrew. Later, Heather explains Andrew was being protective and Rose insists no-one understands him better than her; Heather would be surprised. Heather's curious and Andrew joins them as Rose claims he used to wet the bed. Andrew's angry with Rose and later confesses the truth to Heather, he's been to prison for GBH. He insists nothing's changed, but Heather disagrees – everything has.
Kim flirts with Ray, but after talking to Roxy storms off. Denise makes excuses then blurts out the truth, Kim's got nits. Wearing a motorcycle helmet, Ray asks Kim out on a date. He plonks a hat on her head and they kiss.
Last on
Credits
| Role | Contributor |
| --- | --- |
| Heather Trott | Cheryl Fergison |
| Andrew Cotton | Ricky Grover |
| Rose Cotton | Polly Perkins |
| Dot Branning | June Brown |
| Carol Jackson | Lindsey Coulson |
| Derek Branning | Jamie Foreman |
| Jack Branning | Scott Maslen |
| Max Branning | Jake Wood |
| Tanya Jessop | Jo Joyner |
| Lauren Branning | Jacqueline Jossa |
| Cora Cross | Ann Mitchell |
| Ben Mitchell | Joshua Pascoe |
| Ian Beale | Adam Woodyatt |
| Shirley Carter | Linda Henry |
| Roxy Mitchell | Rita Simons |
| Phil Mitchell | Steve McFadden |
| Denise Fox | Diane Parish |
| Kim Fox | Tameka Empson |
| Executive Producer | Bryan Kirkwood |
| Director | Nigel Douglas |
| Writer | Lauren Klee |
| Ray Dixon | Chucky Venn |
| Patrick Trueman | Rudolph Walker |
| Jean Slater | Gillian Wright |
| DCI Marsden | Sophie Stanton |