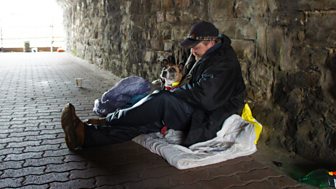 Swansea: Living on the Streets
Hard-hitting documentary series on homelessness, featuring extraordinary and compelling personal stories, and a unique insight into the day-to-day life of those living on Swansea's streets.
On iPlayer
This programme is not currently available on BBC iPlayer
On TV
There are no upcoming broadcasts of this programme
Last on
Wed 26 Mar 2014 00:00
BBC One Northern Ireland, Northern Ireland HD only
Follow up series
Director Chris Rushton returns to Swansea for the follow up series to Swansea: Living on the Streets. A year on, Swansea: Back on the Streets discovers how things have changed and how the recession and cutbacks are hitting those least able to cope.