Chris Morgan watches brown bears

During salmon season the bears are completely focused on fish and do not pay much attention to film crew.

Filming with grizzly bear mum and cubs

Joseph Pontecorvo and Chris Morgan with Nadie and cubs. They spent an entire season getting to know these bears, an eye-opening experience for the filmmakers.

Filming bears in slow motion

Joseph Pontecorvo shooting with a high-speed camera. It was an incredible experience for the team to see these bears chase salmon in slow motion. One can see every muscle of the bears and every movement of the fish in the water. It is quite a remarkable dance that is taking place between predator and prey.
Credits
Presenter

Chris Morgan
Series Editor

Steve Greenwood
Executive Producer

Chris Cole
Writer

Joe Pontecorvo
Producer

Joe Pontecorvo
Great Bear Stakeout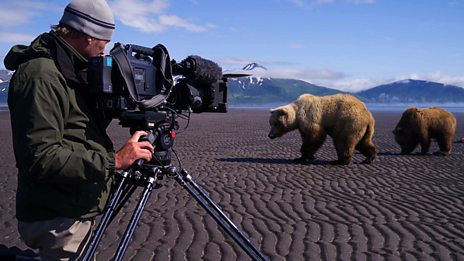 In Alaska an expert team of film-makers follow the astonishing lives of grizzly bears.