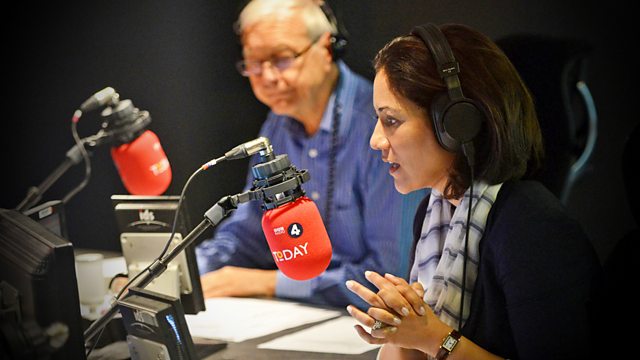 07/04/2012
Morning news and current affairs, presented by Evan Davis and Justin Webb.
0810
Across Bahrain, anti-government protesters wore the mask of campaigner Abdulhadi al-Khawaja yesterday, who has been moved into hospital due to his hunger strike which has so far lasted 58 days. Mr Khawaja and seven opposition leaders were sentenced to life in prison in June last year after being convicted of anti-state crimes. It comes as more voices call on Formula One to reconsider the Bahrain Grand Prix due to take place on 22 April. Nabeel Rajab, president of the Bahrain Centre for Human Rights, the BBC's Kevin Connolly; Damon Hill, former Formula One world champion, and Sheik Salman Al-Kalifa, chief executive of the Bahrain International Circuit which hosts the Grand Prix, reflect on whether the race should take place.
0833
In 1999, the Metropolitan Police was accused of institutional racism. The Met is caught up in a number of new racism cases, not so much institutional, but more individual, 10 claims of racism, 18 offices. We hear from a couple of young people - Reggie Oliver, a football coach to local youths and Junior Gaba, an A-Level student from Catford. Also on the programme is Nick Mason, who is involved in a charity trying to combat gangs; but is also an external board member on the Met's Children and Young People Strategy Board.
0855
Is it getting easier to dine alone in a restaurant? Restaurateur Russell Norman discusses the etiquette of solo dining with Rose Prince, food writer at the Telegraph.
Last on
So you think you know the Today programme?