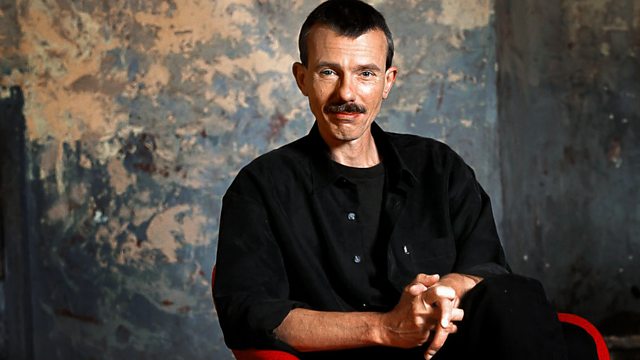 20/03/2012
Jonathan Swain introduces a performance of Beethoven's Missa Solemnis, conducted by Colin Davis, recorded at the 2011 BBC Proms.
12:31 AM
Beethoven, Ludwig van [1770 -1827]
Missa solemnis (Mass in D major), Op.123
Helena Juntunen (soprano), Sarah Connolly (mezzo-soprano), Paul Groves (tenor), Matthew Rose (bass), London Symphony Chorus, London Philharmonic Choir, London Symphony Orchestra, Sir Colin Davis (conductor)
1:59 AM
Beethoven, Ludwig van (1770-1827)
Piano Sonata No.31 (Op.110) in A flat major
Sergei Terentjev (piano)
2:22 AM
Bach, Carl Philipp Emanuel (1714-1788)
Flute Sonata in G major (Wq.133/H.564), 'Hamburger Sonata'
Wilbert Hazelzet (flute), Andreas Staier (fortepiano)
2:31 AM
Brahms, Johannes (1833-1897)
String Quintet No.2 in G major (Op.111)
Bartók Quartet, László Barsony (viola)
2:56 AM
Bach, Carl Philipp Emanuel (1714-1788)
Concerto for 2 harpsichords in F major (Wq.46/H.410)
Alan Curtis & Gustav Leonhardt (harpsichords), Collegium Aureum
3:20 AM
Weber, Carl Maria von (1786-1826)
Bassoon concerto in F major (Op.75)
Juhani Tapaninen (bassoon), Finnish Radio Symphony Orchestra, Jukka-Pekka Saraste (conductor)
3:38 AM
Chopin, Frédéric (1810-1849)
Ballade No.1 in G minor (Op.23)
Shura Cherkassky (piano)
3:47 AM
Bartók, Béla (1881-1945) arr. Arthur Willner
Romanian folk dances from Sz.56
I Cameristi Italiani
3:55 AM
Schumann, Robert (1810-1856)
Songs from Myrten (Op.25)
Olle Persson (baritone), Stefan Bojsten (piano)
4:07 AM
Biber, Heinrich Ignaz Franz von (1644-1704)
Sonata in C minor for violin and bass continuo
Salzburger Hofmusik, Wolfgang Brunner (director)
4:19 AM
Schreker, Franz (1878-1934)
Fantastic Overture (Op.15)
BBC Philharmonic, Vassily Sinaisky (conductor)
4:31 AM
Mozart, Wolfgang Amadeus (1756-1791)
Overture to Die Zauberflöte (K.620)
BBC Philharmonic, Gianandrea Noseda (conductor)
4:38 AM
Villa-Lobos, Heitor (1887-1959)
Song of the Black Swan (orig. for cello and piano)
Henry-David Varema (cello), Heiki Mätlik (guitar)
4:41 AM
Liszt, Franz (1811-1886)
Légende No.1: St. Francois d'Assise prechant aux oiseaux (S.175)
Bernhard Stavenhagen (piano)
4:50 AM
Granados, Enrique (1867-1916)
La Maja y el Ruiseñor - from Goyescas
Marilyn Richardson (soprano), Queensland Symphony Orchestra, Vladimir Kamirski (conductor)
4:57 AM
Doppler, Franz (1821-1883)
L'oiseau des bois (Op.21) - idyll for flute and 4 horns
János Balint (flute), Jeno Kevehazi, Peter Fuzes, Sandor Endrodi, Tibor Maruzsa (horns)
5:03 AM
Strauss, Josef (1827-1880)
Dorfschwalben aus Österreich - waltz (Op.164)
Arthur Schnabel (piano)
5:11 AM
Rautavaara, Einojuhani (b. 1928)
Cantus Arcticus - 'a concerto for birds and orchestra' (Op.61)
Finnish Radio Symphony Orchestra, Jukka-Pekka Saraste (conductor)
5:29 AM
Kyurkchiiski, Krassimir (b.1936)
A Little Bird is Singing
Sofia Chamber Choir, Vassil Arnaudov (conductor)
5:33 AM
Koutev, Philip (1903-1982)
Dragana and the Nightingale
Sofia Chamber Choir, Vassil Arnaudov (conductor)
5:36 AM
Fitelberg, Grzegorz (1879-1953)
Piesn o sokele (The Song about a Falcon) - symphonic Poem (Op.18)
National Polish Radio Symphony Orchestra, Stanislaw Wislocki (conductor)
5:49 AM
Haydn, Joseph (1732-1809)
Quartet for strings in D major (Op.64 No.5) 'Lark'
Tilev String Quartet
6:08 AM
Tchaikovsky, Pyotr Il'yich (1840-1893)
Swan Lake (ballet suite)
Slovenian Radio and Television Symphony Orchestra, Marko Munih (conductor).
Last on