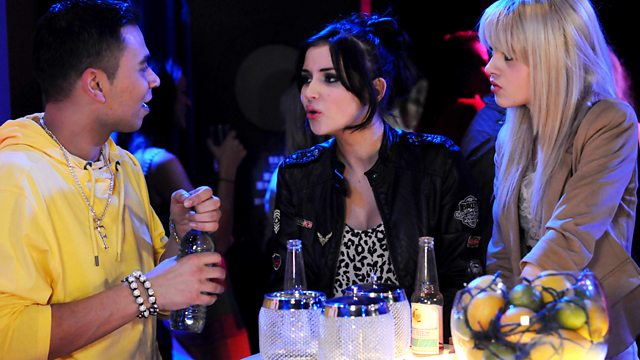 05/03/2012
Hung-over, Lauren skives off work. She drinks in the Vic, tries to flirt with Tyler and jokes Fat Boy will always be single. Lauren downs shots at R&R and steals a clubber's drink. Later, Lauren staggers into the Chippy and runs off with Kim's chips. Fat Boy finds her passed out in the gutter and brings her to the Butchers' to sober up. Whitney looks from a photo of Billie to an unconscious Lauren and hurries to Max's. Max carries Lauren home. Lucy thinks Lauren will hate Whitney. Whitney's defiant –at least she'll be alive.
Cora eavesdrops on Tanya's nurse's visit. Tanya confesses sex is the last thing she wants. Alfie tells Max Roxy's on holiday. Cora orders Max to take Tanya out. Tanya lies to Max - it'll be a while before she can do anything sexual. Max and Tanya are disgusted to see a girl passed out drunk. They're later horrified to realise it was Lauren. Tanya seeks reassurance from Max that better days are coming.
Tamwar refuses Yusef's inheritance money. Zainab thinks the money's cursed. Tamwar's shocked to discover Afia's been looking at a website for reconstructive plastic surgery.
Lorraine wants to go to Janine's engagement party and insists she's taking her pills. Lorraine agrees to wait for Mandy but then goes alone. Janine turfs Lorraine out of the VIP section. Mandy drags Lorraine home.
Janine plans an engagement party at the Vic with a VIP area. Michael's irked when Bianca announces Janine's keeping her name and Janine reveals they have a pre-nup. Janine blames Jean when regular punters get in the VIP area. Jean warns Michael that Janine's dangerous. Michael gives Janine an engagement ring and makes a toast to sparks and danger.
Anthony suggestively offers to give Amira an "Access all Areas" tour of the Emporium. She declines.
Last on
Credits
| Role | Contributor |
| --- | --- |
| Tanya Jessop | Jo Joyner |
| Lauren Branning | Jacqueline Jossa |
| Max Branning | Jake Wood |
| Whitney Dean | Shona McGarty |
| Lucy Beale | Hetti Bywater |
| Tyler Moon | Tony Discipline |
| Arthur 'Fat Boy' Chubb | Ricky Norwood |
| Michael Moon | Steve John Shepherd |
| Janine Butcher | Charlie Brooks |
| Jean Slater | Gillian Wright |
| Alfie Moon | Shane Richie |
| Anthony Moon | Matt Lapinskas |
| Amira Masood | Preeya Kalidas |
| Tamwar Masood | Himesh Patel |
| Afia Masood | Meryl Fernandes |
| Zainab Khan | Nina Wadia |
| Masood Ahmed | Nitin Ganatra |
| Ian Beale | Adam Woodyatt |
| Mandy Salter | Nicola Stapleton |
| Lorraine Salter | Victoria Alcock |
| Kim Fox | Tameka Empson |
| Cora Cross | Ann Mitchell |
| Bianca Butcher | Patsy Palmer |
| Billy Mitchell | Perry Fenwick |
| Executive Producer | Bryan Kirkwood |
| Director | Mickey Jones |
| Writer | Peter McTighe |
| Jacqui Aspinall | Francine Morgan |
| Matt | Daniel Kendrick |
Shocked Sharon confronts "K"