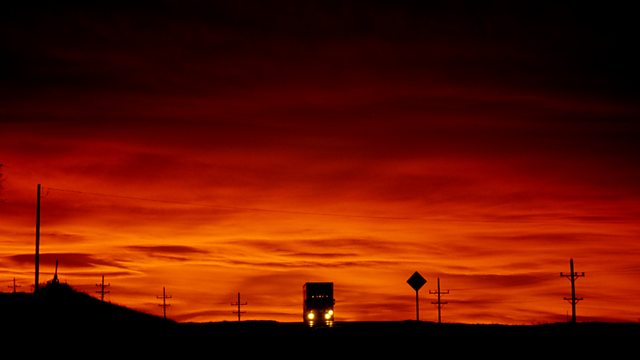 17/03/2012
From the 66th International Chopin Festival, pianist Sara Daneshpour plays Haydn, Schumann, Prokofiev, Scarlatti, Franck and Rachmaninov. Presented by Jonathan Swain.
12:31 AM
Haydn, (Franz) Joseph [1732-1809]
Sonata for piano (H.16.23) in F major
Sara Daneshpour (piano)
12:43 AM
Schumann, Robert [1810-1856]
Abegg variations for piano (Op.1)
Sara Daneshpour (piano)
12:52 AM
Prokofiev, Sergey [1891-1953]
Sonata for piano no. 7 (Op.83) in B flat major
Sara Daneshpour (piano)
1:13 AM
Scarlatti, Domenico [1685-1757]
Sonata (Kk.27) in B minor; Sonata (Kk.212) in A major
Sara Daneshpour (piano)
1:21 AM
Franck, Cesar [1822-1890]
Prelude, choral et fugue for piano (M.21)
Sara Daneshpour (piano)
1:40 AM
Rachmaninov, Sergey [1873-1943]
Etudes-tableaux for piano (Op.39)
Sara Daneshpour (piano)
1:54 AM
Chopin, Fryderyk [1810-1849]
24 Preludes for piano (Op.28) no. 6 in B minor
Sara Daneshpour (piano)
1:56 AM
Tchaikovsky, Pyotr Il'yich [1840-1893]
The Seasons for piano (Op.37b); December (Christmas)
Sara Daneshpour (piano)
2:02 AM
Mendelssohn, Felix (1809-1847)
Symphony No.5 in D major 'Reformation' (Op.107)
Oslo Philharmonic Orchestra, Paavo Berglund (conductor)
2:31 AM
Vivaldi, Antonio (1678-1741)
Dixit Dominus for SSATB soloists and double choir and orchestra in D major (RV.595)
Choir of Latvian Radio and the Riga Chamber Players, Sigvards Klava (conductor)
3:01 AM
Schumann, Robert (1810-1856)
Quintet for piano and strings (Op.44) in E flat major
Ingrid Fliter (piano), Ebène Quartet
3:32 AM
Maldere, Pieter van (1729-1768)
Sinfonia in F major a 4
The Academy of Ancient Music , Filip Bral (conductor)
3:45 AM
Muffat, Georg (1653-1704)
Sonata for solo violin and bass continuo
Salzburger Hofmusik, Wolfgang Brunner (director)
3:57 AM
Mozart, Wolfgang Amadeus (1756-1791)
12 Variations for piano in B flat (K.500)
Simon Crawford-Phillips (piano)
4:07 AM
Demersseman, Jules August (1833-1866)
Concert Fantasy for 2 flutes and piano (Op.36)
Matej Zupan, Karolina Santl-Zupan (flutes), Dijana Tanovic (piano)
4:19 AM
Grieg, Edvard (1843-1907)
Triumphal March from 'Sigurd Jorsalfar'
Danish Radio Concert Orchestra, Roman Zeilinger (conductor)
4:31 AM
Geminiani, Francesco (1687-1762)
Concerto grosso (Op.3 No.6) in E minor
Camerata Bern, Thomas Furi (conductor)
4:40 AM
Mozart, Wolfgang Amadeus (1756-1791), arr. Grieg, Edvard (1843-1907)
Sonata for piano in C major (K.545)
Julie Adam and Daniel Herscovitch (pianos)
4:50 AM
Willan, Healey (1880-1968)
Te Deum Laudamus
Vancouver Bach Choir, Vancouver Symphony Orchestra, Bruce Pullan (conductor)
5:02 AM
Martinu, Bohuslav (1890-1959)
Sonatina for clarinet and piano
Valentin Uriupin (clarinet), Yelena Komissarova (piano)
5:13 AM
Bach, Johann Sebastian (1685-1750)
Brandenburg Concerto no.2 (BWV.1047) in F major
Alexis Kossenko (recorder), Erik Niord Larsen (oboe), Ole Edvard Antonsen (trumpet), Elise Båtnes (violin), Risör Festival Strings, Knut Johannessen (harpsichord)
5:25 AM
Jacob, Gordon (1895-1984)
5 Pieces arranged for harmonica and strings
Gianluca Littera (harmonica), I Cameristi Italiani
5:40 AM
Brahms, Johannes (1833-1897)
Trio for viola, cello and piano (Op.114) in A minor
Maxim Rysanov (viola), Ekaterina Apekisheva (piano), Kristina Blaumane (cello)
6:06 AM
Schubert, Franz (1797-1828);
String Quartet No.6 in D major (D.74)
Quartetto Bernini.
Last on