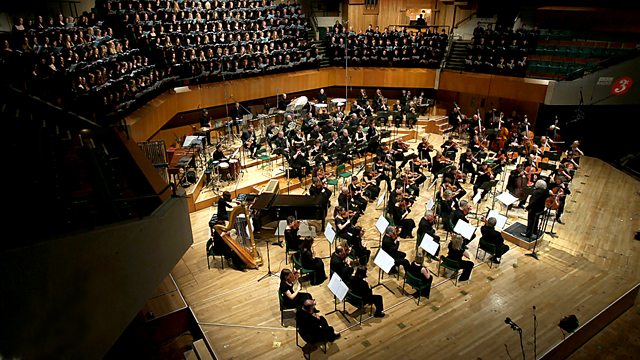 BBC National Orchestra of Wales in Cardiff
A BBC-led weekend of over 100 live music events across the UK - from Cornwall to the Shetland Isles and Belfast to Birmingham - launching the nationwide countdown to the London 2012 Festival.
Radio 3 celebrates live music-making all weekend, handing on the baton from concert to concert, featuring a wide range of professional and amateur events and talking to the people who've made it all happen. Presented by Andrew McGregor and Suzy Klein.
Live from St David's Hall, Cardiff, Nicola Heywood Thomas introduces a celebratory concert inspired by the Olympics, and featuring a world premiere by celebrated Welsh composer Karl Jenkins. On stage are the BBC National Orchestra of Wales, the BBC National Chorus of Wales, students from the Royal Welsh College of Music and Drama and 250 young singers from county youth choirs across Wales. The music includes Shostakovich's Festival Overture, which featured in the 1980 Moscow games, and Michael Torke's Javelin, composed for the 1996 Atlanta Olympics. The huge forces combine for the climax of the concert - the first performance of Songs of the Earth by Karl Jenkins, composed especially for the occasion.
Shostakovich: Festival Overture
Michael Torke: Javelin
Lloyd Coleman: Breaking the Wall (extract)
Special schools workshop performance
Tchaikovsky: 1812 Overture
Karl Jenkins: Songs of the Earth (world premiere)
BBC National Orchestra of Wales
BBC National Chorus of Wales
Royal Welsh College of Music and Drama
Massed county youth choirs
Sian Edwards (conductor)
Karl Jenkins (conductor).
Last on