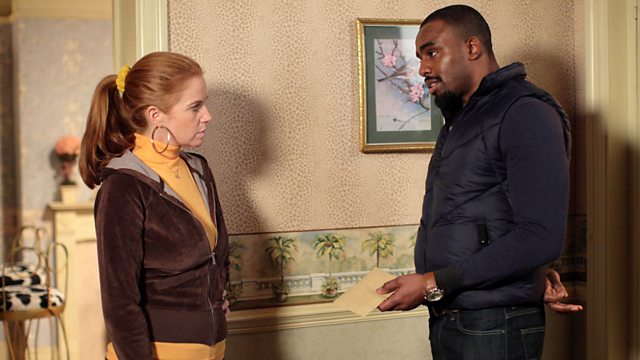 28/02/2012
While Lucy and Lauren search for evidence of Mandy's affair, Mandy pre-empts Lucy's bracelet revelation, spinning Ian a convoluted story involving digitally altered photos. Lucy triumphantly shows Ian a money transfer from Mandy's handbag. Mandy admits she pawned the bracelet but can't tell Ian why. She begs him to trust her. Sure 'L Stevens' on the money transfer's the 'L' Mandy's having an affair with, Lucy texts, inviting them to Walford. She tells Lauren they're going to find out exactly what Mandy's hiding.
Cora's on the warpath about Manic Mondays. After Michael fobs off a licencing officer, Janine realises Cora's reported her and storms round to the charity shop. Michael brokers a compromise, involving a crackdown on fake ID, him taking responsibility for the mess and Janine making a (tax deductible) donation. Michael's not happy when Janine insists the baby will be a Butcher not a Moon.
Roxy texts Max 'talk to me'. Max ignores it, claiming to Tanya it was a customer. Roxy later tells him she's sick of waiting for her phone to ring. In the Vic with Cora and Tanya, Max texts Roxy 'Will a text do?' Behind the bar, Roxy smiles.
Bianca's desperately short of money. Alfie can't offer her any bar work. Carol's mortified; her charity shop cardigan was Jean's. Alfie drops £10 and pretends it's Bianca's. Thrilled, she buys cake ingredients and she and Carol bicker about financial priorities. Carol's touched when Whitney customises her cardigan. Ray brings Bianca nearly £300. The family start partying, then the electricity's cut off. Tyler saves the day, bringing candles and setting up a film on the laptop.
Heather's disapproving when Billy doubles the quantities on Janine's nursery equipment order - one for Janine, one for Lola. Billy wants Lola to attend a first time mums' class at the Community Centre.
Last on
Credits
| Role | Contributor |
| --- | --- |
| Lucy Beale | Hetti Bywater |
| Lauren Branning | Jacqueline Jossa |
| Tanya Jessop | Jo Joyner |
| Max Branning | Jake Wood |
| Cora Cross | Ann Mitchell |
| Ian Beale | Adam Woodyatt |
| Mandy Salter | Nicola Stapleton |
| Carol Jackson | Lindsey Coulson |
| Bianca Butcher | Patsy Palmer |
| Ray Dixon | Chucky Venn |
| Morgan Butcher | Devon Higgs |
| Tiffany Butcher | Maisie Smith |
| Whitney Dean | Shona McGarty |
| Tyler Moon | Tony Discipline |
| Alfie Moon | Shane Richie |
| Jean Slater | Gillian Wright |
| Michael Moon | Steve John Shepherd |
| Janine Butcher | Charlie Brooks |
| Patrick Trueman | Rudolph Walker |
| Executive Producer | Bryan Kirkwood |
| Director | Alex Kalymnios |
| Writer | Daran Little |
| Denise Fox | Diane Parish |
| Roxy Mitchell | Rita Simons |
| Billy Mitchell | Perry Fenwick |
| Lola Pearce | Danielle Harold |
| Official | Jonathan Jones |