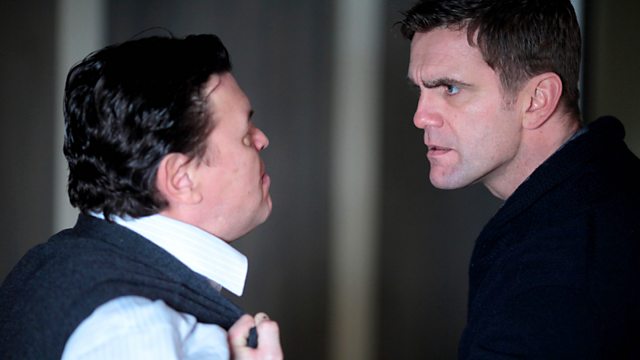 24/02/2012
Shirley tells Jack that Roxy never came home, Jack confronts Derek. Derek alleges he misunderstood Jack. At Phil's, Roxy worries she's not safe. Shirley's adamant it's over. Jack worries he could lose Amy like Derek lost Chrissy. Max is oblivious. Jack furiously confronts Derek – he knows he doesn't have a daughter. Jack walks away when Derek gloats they're the same. Jack tells Shirley Roxy could be in trouble. Roxy appears, safe, and punches him. She declares Jack an un-fit parent - just ask Penny. Shirley informs Derek Roxy's at home; Andy and Phil go back a long way. Jack agrees with Roxy and walks away from Amy. As Roxy crosses the Square, Derek grabs her - Roxy's lucky he's on license. Jack tells Max he won't see Amy pay the same price Penny did. Later, Max confronts Roxy. Clad in just a towel, Roxy teases Max. Max thinks she's a tart but watches as Roxy walks up the stairs and drops her towel.
Max and Tanya go AWOL for the day. Watching 'Gone with the Wind', Max massages Tanya's shoulders. She's uncomfortable. Tanya kisses Max tentatively, but as he responds she pulls away. Max's frustrated.
Anthony can't afford to take Amira to a posh restaurant. Alfie jokes they're like Lady and the Tramp. Inspired, Anthony serves Amira spaghetti and meatballs at the Moons' decorated with candelabras from the Emporium. As they cuddle on the sofa, Amira thanks Anthony for being a gentleman.
Heather's bought a second hand wedding dress off the internet. When Andrew sees the dress and the caterer and cake designer cancel, Heather cries. Andrew worries he'll always come second to Shirley. Andrew takes Heather for a spin on the Argee Bhajee moped as practice for their Harleys. Heather agrees Andrew can have her to himself on their honeymoon.
Last on
Credits
| Role | Contributor |
| --- | --- |
| Max Branning | Jake Wood |
| Roxy Mitchell | Rita Simons |
| Jack Branning | Scott Maslen |
| Derek Branning | Jamie Foreman |
| Tanya Jessop | Jo Joyner |
| Heather Trott | Cheryl Fergison |
| Andrew Cotton | Ricky Grover |
| Dot Branning | June Brown |
| Patrick Trueman | Rudolph Walker |
| Shirley Carter | Linda Henry |
| Alfie Moon | Shane Richie |
| Anthony Moon | Matt Lapinskas |
| Amira Masood | Preeya Kalidas |
| Executive Producer | Bryan Kirkwood |
| Director | Daniel Wilson |
| Writer | Richard Lazarus |