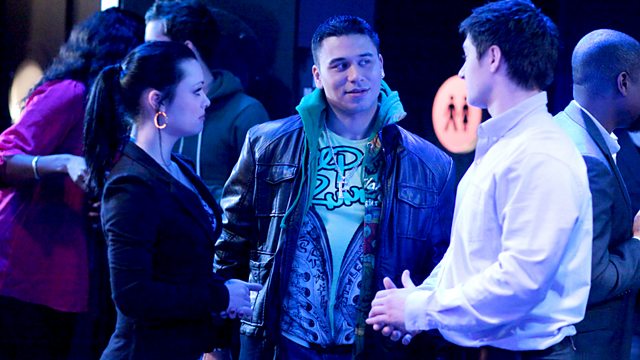 20/02/2012
Janine refuses to give Fat Boy another club night. Whitney pleads with Janine, determined to make up with Fat Boy. Janine relents. Fat Boy's enthused but is upset to learn Whitney's behind it. Lauren's shocked Whitney and Tyler are together, Whitney explains she can't help who she loves. Whitney gets Lauren to designs fliers for 'Manic Mondays'. Bianca interrogates Tyler, he insists he loves Whitney. Later, R&R's full of girls Tyler's dated. Whitney leads Fat Boy to R&R. He's touched they organised the night but saddened to see Tyler and Whitney kissing.
Jack wants five minutes with Amy but Roxy's in a rush. Derek searches through Jack's photos. He finds one of Roxy but it's ruined. Derek recruits Roxy's help with the CCTV in R&R and captures a clear image of Roxy's face. Jack's annoyed Roxy's working in the Vic. Derek claims Roxy's been palming Amy off. Roxy insists she's trying to provide for Amy and lashes out at Derek. Later, Derek offers to take care of Roxy, handing Jack a photo. Horrified, Jack screws it up. Derek tucks it in his pocket – it's the photo of Roxy.
Alfie receives a delivery of vodka. He wants to cut Derek out and deal with the supplier directly. Roxy steals Derek's mobile when she pushes him and gives Alfie the supplier's number.
Syed sets up a market stall to sell Olympic merchandise. Zainab worries when Anthony helps Amira, Amira insists nothing's going on. Syed thinks Amira's acting like a princess. Anthony insists Amira prove him wrong. With Anthony's help, Amira has a successful day's trading. They kiss, much to Zainab's alarm.
On Tamwar's first day back at work, Afia wants to hire an attractive new waiter, Ali. Paranoid, Tamwar hires Fat Boy. Afia isn't impressed with him. Tamwar thinks Afia wants an excuse to hire Ali.
Last on
Credits
| Role | Contributor |
| --- | --- |
| Derek Branning | Jamie Foreman |
| Jack Branning | Scott Maslen |
| Roxy Mitchell | Rita Simons |
| Alfie Moon | Shane Richie |
| Billy Mitchell | Perry Fenwick |
| Patrick Trueman | Rudolph Walker |
| Arthur 'Fat Boy' Chubb | Ricky Norwood |
| Whitney Dean | Shona McGarty |
| Tyler Moon | Tony Discipline |
| Lauren Branning | Jacqueline Jossa |
| Lucy Beale | Hetti Bywater |
| Janine Butcher | Charlie Brooks |
| Tamwar Masood | Himesh Patel |
| Afia Masood | Meryl Fernandes |
| Syed Masood | Marc Elliott |
| Executive Producer | Bryan Kirkwood |
| Director | Daniel Wilson |
| Writer | Pete Lawson |
| Amira Masood | Preeya Kalidas |
| Anthony Moon | Matt Lapinskas |
| Zainab Masood | Nina Wadia |
| Denise Fox | Diane Parish |
| Shirley Carter | Linda Henry |
| Jean Slater | Gillian Wright |
| Bianca Butcher | Patsy Palmer |
| Tiffany Butcher | Maisie Smith |
| Ali | Miren Patel |