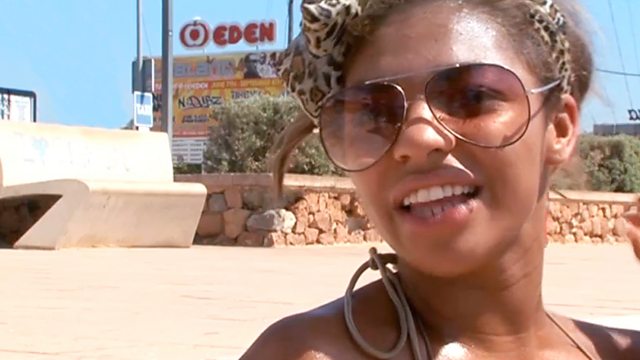 BBC Three throws open the doors on the ultimate rite of passage for the average teenager - the first ever summer holiday abroad without their parents. But what these teenagers couldn't possibly have guessed is that whilst they enjoy their first taste of freedom, with all its temptations and excesses, they are being secretly watched... by their parents. It will be an eye-opening experience, but will it bring them closer together or drive them further apart?
This time it's highs, lows and very bad behaviour in the party capital of Ibiza. Good boy Ollie from Portsmouth is leaving his over-motherly mum, who calls him her 'munchkin'. This will be his first ever trip outside of England with the lads. Over in Preston, 19-year-old drama student Shannon wants to prove to her mum and dad that she can look after herself on her first girls' holiday without her parents.
Ollie's dad has also never been abroad and doesn't even own a passport. Little does Ollie know that his dad has not only got himself a passport, but is flying out with Ollie's mum to Ibiza after him. He's joined by Shannon's overprotective ex-bouncer dad and mum. Together they covertly watching their kids' every move.
It's the first night out in Ibiza, and Ollie's group finally leave the comfort of a British-themed pub to hit the strip. By 3am they are already carrying one of their group back. Meanwhile, Shannon is heading out for a big night out in a tiny outfit. Shannon's parents are not fans of her skimpy outfits at home, and as dad watches on in secret he becomes increasingly angry at his daughter's drunken behaviour.
Later in the week it's Ollie's birthday and the Portsmouth boys are hitting the alcohol hard. Despite throwing up after the first bar, Ollie is determined to continue and he ends up kissing several girls.
The next night, with his increased confidence, Ollie brings a blonde beauty back to his hotel room, but how will mum feel when she watches her munchkin acting like a man?
Last on
Credits
| Role | Contributor |
| --- | --- |
| Series Producer | Zoe Page |
| Executive Producer | Jo Scarratt |
| Executive Producer | Tayte Simpson |