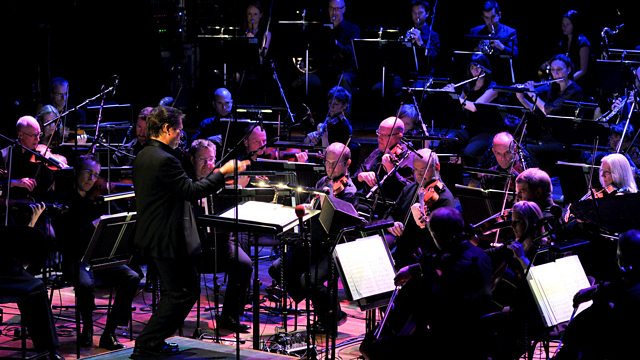 BBC Concert Orchestra Celebrating 60
Celebrating 60 - Ken Bruce salutes the BBC Concert Orchestra on their 60th anniversary. This week's featured archive concert is "Radio's Golden Greats" which was part of the BBC's 75th anniversary season in October 1997. The show was broadcast from Alexandra Palace and presented by Roy Hudd recalling the music of Gracie Fields; Cavan O'Connor; Flanagan and Allen and Tony Hancock. Guest vocalists are Friday Night favourites - Joan Savage; Maryetta and Vernon Midgley and William Davies at the console of the Ally Paly organ. The BBC Concert Orchestra are on hand to provide light music by Haydn Wood; Eric Coates and Charles Williams.
Hailed by Sir Arthur Bliss as "a worthy instrument, ready at hand to present a brilliant new era of 'entertainment' music'" the BBC Concert Orchestra are very much today a jewel in BBC Radio 2's crown. The BBC Concert Orchestra made its first broadcast on 11th September 1952 on the BBC General Overseas Service with a repeat broadcast on the domestic service three days later. But the story starts 20 years before when the BBC brought together a group of players under the title the BBC Theatre Orchestra - their main role was to provide incidental music to radio plays - under their principal conductor Leslie Woodgate.
When not required in the drama studios, the orchestra gave light music and opera concerts. In 1949 the orchestra was renamed the BBC Opera Orchestra with Stanford Robinson as conductor. Its brief was to be an "opera cum second symphony orchestra.an orchestra capable to putting over the finest light music to great effect". Three years later the BBC decided the time was right for a light music orchestra and the BBC Concert Orchestra was born.
Today, the 60 musicians who make up the BBC Concert Orchestra broadcast weekly in BBC Radio 2's Friday Night Is Music Night. They are equally at home playing Bach and Beethoven as accompanying Dame Shirley Bassey. In this 11-part series, Ken Bruce trawls the BBC Concert Orchestra archives for some classic performances from their first 60 years.
A feast for light music fans - each week the series will broadcast a show from the orchestra archives. The series will feature archive performances from the likes of light music legends Sidney Torch; Vilem Tausky; Robert Farnon; Eric Coates; Willi Boskovsky; Stanley Black; and Ron Goodwin. Plus concert performances from Matt Monro and Dudley Moore as well as more recent collaborations with Michael Buble; Lionel Richie and Peter Gabriel.
Ken Bruce talks to the players and conductors past and present for their musical memories and tells the story of this remarkable group of BBC musicians.
Last on