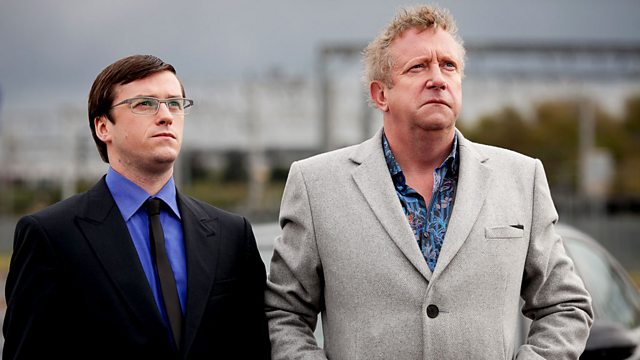 When Albert finds out a favourite haunt of his has been brutally demolished the team think they have found their next mark. The culprit, Dale Ridley, is a property developer who has arrogantly spent years bribing the right people so that he can demolish beautiful old buildings in order to sell the sites for profit.
Dale still carries a huge resentment against London City Studios, the television company which fired him years ago and when Mickey finds out their studio building is up for sale he knows it is one site Ridley will not be able to resist. Their plan is to pose as the property consultants handling the sale and manoeuvre him in to paying them a bribe.
Alfie Beezer, Ash's eleven year old godson, turns up at the bar with a note from his dad asking Ash to take care of him for a few days. Babysitting has never been one of the gang's particular talents and it is clear that cheeky little Alfie is going to run rings around them. In less than 24 hours he has conned Eddie out of £25, managed to give Emma the slip and nearly blown the con by coming face to face with the mark.
Stage two of the con is launched and Emma has the task of keeping one of the real property consultants for the studio busy whilst Ash infiltrates their office to hold his meeting with Ridley. It is a slick operation but when a well-meaning but badly timed appearance from Alfie jeopardises Ash's cover, Alfie tries to make amends only to bump in to Ridley and blow things once and for all. Whilst Ridley schemes his revenge, a guilty Alfie keeps quiet about what happened and the gang appear blissfully unaware that they are about to not only lose their winnings but a whole lot more. Are the grifters about to become the marks?
Last on
Credits
| Role | Contributor |
| --- | --- |
| Mickey Stone | Adrian Lester |
| Albert Stroller | Robert Vaughn |
| Ash Morgan | Robert Glenister |
| Sean Kennedy | Matt Di Angelo |
| Emma Kennedy | Kelly Adams |
| Eddie | Rob Jarvis |
| Dale Ridley | Mark Williams |
| Alfie Beezer | Sammy Williams |
| Reg | Teddy Kempner |
| Hotel Manager | Peter Lindford |
| Receptionist | Robyn North |
| Writer | Chris Bucknall |
| Producer | Jane Hudson |
| Director | Alrick Riley |