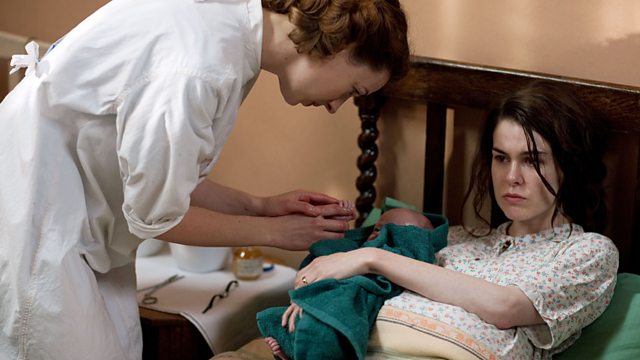 The episode commences with Jenny delivering a little girl, Gillian, to Shirley Redmond. As Shirley's previous baby was stillborn, Sister Evangelina is also in attendance. Jenny has now been working in the East End for some time, and feels privileged to share such a precious part of these women's lives. Soon after Shirley gives birth, a bombshell drops; the newborn baby has been snatched from her pram, outside the Redmond household. A full-scale search is launched, and the entire community becomes involved in the quest to reunite the desperate parents with their child.
Cynthia, meanwhile, finds herself involved in an equally traumatic situation as she witnesses true love and heartbreak when she meets David and Margaret during their time of need. A middle-aged headmaster, David and his young musician wife Margaret are expecting their firstborn when she suffers from eclampsia. It is a heart wrenching case, and Cynthia observes the strength of soul mates and tragedy of loss.
Just as the trail appears to have gone cold with Shirley's baby, she is found. She was taken by Mary, the Irish girl whom Jenny had befriended previously. Mary has been unable to resolve the grief she felt after losing her own child. The police want to prosecute Mary but, urged by Jenny, Sister Julienne and Sister Evangelina intervene and ask for leniency on Mary's behalf.
Last on
Credits
| Role | Contributor |
| --- | --- |
| Voice of Mature Jenny | Vanessa Redgrave |
| Jenny Lee | Jessica Raine |
| Sister Julienne | Jenny Agutter |
| Sister Evangelina | Pam Ferris |
| Chummy Browne | Miranda Hart |
| Sister Monica Joan | Judy Parfitt |
| Trixie Franklin | Helen George |
| Cynthia Miller | Bryony Hannah |
| Sister Bernadette | Laura Main |
| Fred | Cliff Parisi |
| Dr Turner | Stephen McGann |
| PC Peter Noakes | Ben Caplan |
| Mary | Amy McAllister |
| Jimmy | George Rainsford |
| Shirley Redmond | Emma Noakes |
| Ron Redmond | Tom Colley |
| Gladys | Susie Baxter |
| David Jones | Tom Goodman-Hill |
| Ingrid Mason | Thomasin Rand |
| Producer | Hugh Warren |
| Director | Jamie Payne |
| Writer | Heidi Thomas |
| Eileen | Nicola Munns |
| Milkman | Anton Saunders |
Spend Christmas with the BBC
Buy online
Buy online
Available on: DVD or Video download
From suppliers including: BBC Shop, iTunes