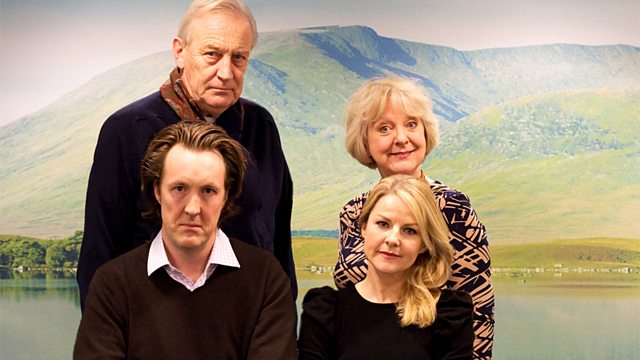 Episode 4 - The Bathroom
An audience sitcom about a couple in marriage counselling. Annabelle is annoyed because Will couldn't stand up to their over-enthusiastic builder. Will is furious at Annabelle for hiring the builder. Guy mediates, but this week the counsellor has his own problems.
FULL CAST DETAILS:
Will Smith ..... Will Smith
Annabelle Smith ..... Sarah Hadland
Guy ..... Paterson Joseph
John ..... Geoffrey Whitehead
Saskia, Sally ..... Susie Blake
Adam ..... Dan Tetsell
Claudia ..... Tracy Wiles
Written by ..... Will Smith
Produced by ..... Tilusha Ghelani
A year into married life and already things are a little creaky. So, following Will's unimaginative anniversary present (a draining rack), Annabelle has signed them up for a course of marriage counselling.
Each week, counsellor Guy mediates a recent dispute between Will and Annabelle, with flashbacks to the events that spawned the argument, and by the end, the couple find marital equilibrium once more. Sort of.
Guy arbitrates, usually leaning towards Annabelle's more sensible point of view. In contrast to Will's uptightness, Guy is confident and urbane and clearly irritates Will.
The writer and comedian Will Smith leads the starry cast of Mr and Mrs.Smith. Will's writing credits include Armstrong and Miller (BBC1), Harry and Paul (BBC1), Moving Wallpaper (ITV1), Time Trumpet (BBC2), the multi-award winning The Thick Of It (BBC2) in which he also appears as Phil Smith, and the upcoming Veep (HBO).
Last on
More episodes
Next
You are at the last episode