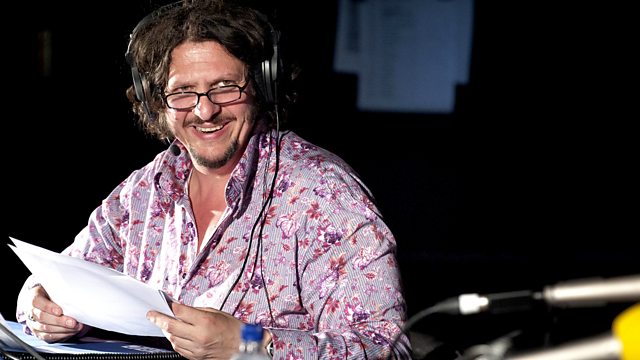 Jay Rayner presents the second programme of a new BBC Radio 4 series: a food panel show, recorded in front of a live audience, aimed at anyone who cooks at home, not just the experts. Each week the programme travels round the UK to visit interesting food locations, and meet local food-loving people.
This week The Kitchen Cabinet is in Whitechapel in the East End of London at the extraordinary Wilton's Music Hall - the oldest surviving grand music hall in the world.
The panel features: Angela Malik, the Scottish-Indian chef, whose passion for demystifying food has led to her setting up her own cookery school, deli and street-market stalls; Rachel McCormack, a Glaswegian who spent her formative years in Spain, and who is now successfully spreading the word on all things Spanish, not least by teaching authentic Catalan cookery; Henry Dimbleby, the food writer and co-founder of the Leon restaurant chain; and the food scientist, Peter Barham, who has advised some of the leading restaurants in the world, including Heston Blumenthal's Fat Duck and Noma in Copenhagen.
Inspired by the fact that it's the 14th February, the team answer questions about how to create the perfect Valentine's meal, and whether any supposed aphrodisiacs really work; they also discuss the popular foods that have been introduced to the UK by immigrants who have settled in London's East End over the years; and how to encourage young children to eat liver!
The show is witty, fast-moving, and irreverent, but packed full of information that may well change the way you think about cooking.
Food consultant: Anna Colquhoun.
Produced by Robert Abel & Lucy Armitage.
A Somethin' Else production for BBC Radio 4.
Last on