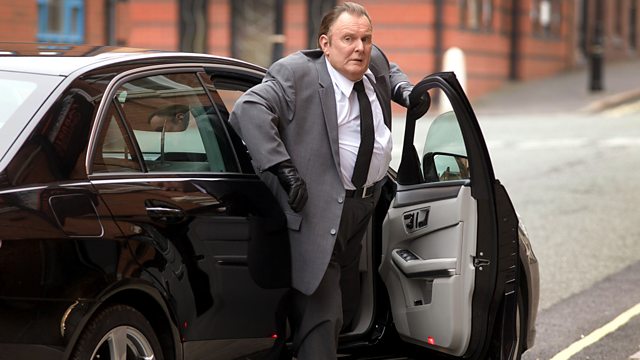 When the gang's friend Carol suddenly falls sick, the team discover she has been the victim of a sham diet plan called Eat Yourself Slender. It is the brainchild of Dean and Dana Deville, a couple of glossy American con artists who specialise in peddling unproven, and often dangerous health products to the general public. They will make great marks, but conning another con merchant is never easy, and Mickey knows they will first need to gain their trust with an elaborate convincer.
With their medical cons threatened by the authorities, the Devilles have recently taken to art dealing. In particular they have purchased one of a pair of Faberge eggs and are desperate to get their hands on the other, which resides in a local gallery. The team set themselves up as thieves who can acquire the egg for a fee. Meanwhile, Ash and Mickey set up the main con - they are going to sell the Devilles a miracle diet pill. To do this, Ash will be dressed in a huge fat suit, miraculously losing weight quickly over the course of the egg convincer.
So six weeks go by with Ash gradually reducing in size, until the day comes for Sean and Emma to steal the egg. Dean and Dana insist on watching the theft live on cameras and are overjoyed when it is a success. With Ash now a full six stone lighter, the Devilles cannot help but be intrigued by how he lost the weight so quickly, and Ash cleverly lets slip that he has been taking a new diet drink, stolen from the lab where his wife works. Seeing the potential millions in such a product, the Devilles are desperate to get their hands on it and insist that Mickey plan a new raid. But our gang are unaware that whilst Sean was doing the initial theft at the art gallery a receipt fell out of his pocket, and now the police are on his tail.
Last on
Credits
| Role | Contributor |
| --- | --- |
| Mickey Stone | Adrian Lester |
| Albert Stroller | Robert Vaughn |
| Ash Morgan | Robert Glenister |
| Sean Kennedy | Matt Di Angelo |
| Emma Kennedy | Kelly Adams |
| Eddie | Rob Jarvis |
| Dean Deville | John Barrowman |
| Dana Deville | Raquel Cassidy |
| Carol | Jodie Prenger |
| DS Rivet | Stuart McQuarrie |
| Ali | Munir Khairdin |
| Australian Scientist | Peter Vollebregt |
| Nurse | Syreeta Kumar |
| News Reporter | Pax Baldwin |
| Scientist | Vanessa Havell |
| Casino Cashier | Dionne Bromfield |
| Writer | Chris Lang |
| Producer | Jane Hudson |
| Director | Roger Goldby |