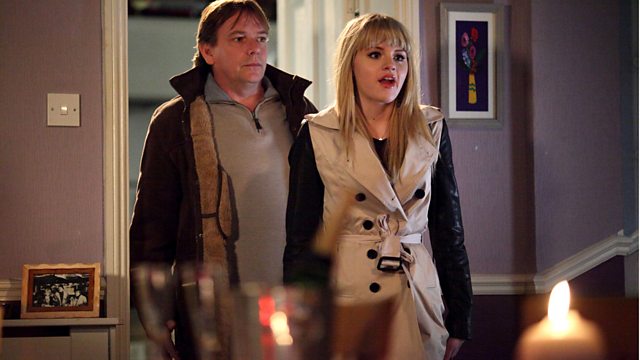 03/02/2012
Ben resists Shirley's attempts to make him visit Phil, but decides to go after Derek tells him if you're going to shaft someone, do it properly. At the prison, despite Phil's assertions it's not too late to put things right, Ben just gloats. He insists Phil's powerless, going nowhere and when he dies, Ben will dance on his grave. Shirley and Phil are horrified when Ben asks if Phil's proud; is he enough of a Mitchell now...
Ian takes Lucy to lunch. However, when Ian claims he has to rush away on business, Lucy reads his texts and discovers Mandy's summoning him. She heads to the house herself, thwarting Ian and Mandy's afternoon of passion.
Janine's shocked; Michael's in pain, his body covered in bruises. Anthony and Tyler are bemused when Derek gives them the Emporium keys, but soon learn what's happened. The boys, Janine and Michel go to the Vic, where Derek's holding court. Michael makes a show of telling Derek he's fine. Michael makes a snide remark as he leaves, prompting Jack to warn him to back off. Michael tells Roxy he's having problems with Jack, they should keep in touch. Anthony thinks Michael must be hoping they'll tell Eddie. He asks if Tyler's forgiven Michael, he grudgingly says he has.
Whitney's job's in jeopardy after Roxy's complaint. Roxy and Jack agree not to argue in front of Amy, but to go through the lawyers. Bianca confronts them about Whitney, Roxy's unmoved and leaves. Jack agrees to call the nursery. When he tells Bianca Roxy wants to take Amy on holiday she shares his suspicions that Roxy might take Amy abroad permanently. Sophie tells Whitney she can keep her job. Whitney and Fatboy celebrate in the Vic; Tyler watches jealously then pointedly chats up another girl.
Last on
Credits
| Role | Contributor |
| --- | --- |
| Ben Mitchell | Joshua Pascoe |
| Shirley Carter | Linda Henry |
| Phil Mitchell | Steve McFadden |
| Jay Mitchell | Jamie Borthwick |
| Roxy Mitchell | Rita Simons |
| Jack Branning | Scott Maslen |
| Derek Branning | Jamie Foreman |
| Bianca Butcher | Patsy Palmer |
| Whitney Dean | Shona McGarty |
| Arthur 'Fat Boy' Chubb | Ricky Norwood |
| Anthony Moon | Matt Lapinskas |
| Tyler Moon | Tony Discipline |
| Michael Moon | Steve John Shepherd |
| Janine Butcher | Charlie Brooks |
| Ian Beale | Adam Woodyatt |
| Mandy Salter | Nicola Stapleton |
| Lucy Beale | Hetti Bywater |
| Sophie | Jane Cameron |
| Prison Officer | Jonathan Jaynes |
| Executive Producer | Bryan Kirkwood |
| Director | John Greening |
| Writer | Christopher Reason |