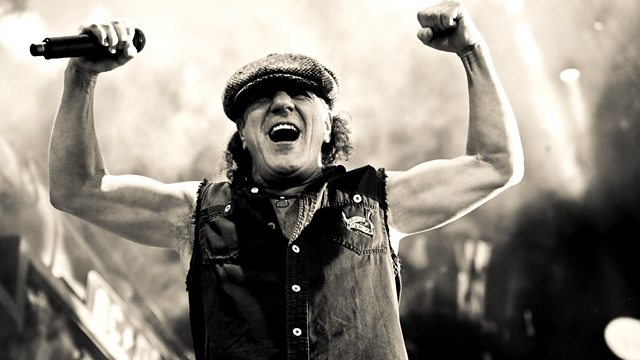 Zurich
Aidan and Paul have been friends all their lives and now they are in their late thirties. Both were "head bangers" back in the day and both love AC/DC. Paul has been in a wheelchair since a tragic car accident when he was 21. Each year the friends make it a point to watch AC/DC in a European city, this year Paul has decided on Zurich.
They leave Belfast with Paul secreting a copious amount of cannabis on his person. They use Paul's status as a wheelchair user to bunk any queue they are ever in. Paul is a big lad over twenty stone now. This means they get moved to spacious fire-exit areas, get served their drinks first.
At Zurich they are rumbled by the sniffer dog, which signals that Paul has got cannabis. Paul protests that it is a medicinal necessity, and they are released with a caution. The lads reach their opulent hotel; Aidan enquires why the luxury, as they normally stay in a low-budget one, and Paul explains that "you only live once". They head out to the concert where once again Paul gets them the best seats in the house, demanding vehemently that Aidan be afforded the same treatment as his carer and explaining that Aidan empties his catheter bag.
The concert rocks. Angus and co tear it up and the boys are energized by the music. They have the time of their lives, with big doobies, ice-cold beer and burgers. Only after twenty cans do they realize they have been drinking non-alcoholic beer! The lads laugh and reminisce about the good times, and bad times, when finally Paul reveals the reason he has chosen Zurich and asks his best friend a favour that will test their close relationship to the limits ...
Pearse Elliott was born in West Belfast and was nominated for the Irish Film and Television Best New Talent Award for his feature film, Man About Dog. His second feature, The Mighty Celt, starring Robert Carlyle and Gillian Anderson was nominated for Best Script and Best Film at the IFTAs and was a critical success. He also wrote the feature film Shrooms (Capitol Films/Magnolia Pictures) which was released last year. His tv work includes the acclaimed BBC A Rap at the Door and the BBC 3 series Pulling Moves. Pearse has projects currently in development with Mammoth, Rubicon Films and Treasure Entertainment and a new theatre play.
Paul ..... Conleth Hill
Aidan ..... Patrick FitzSymons
Verity ..... Victoria Inez Hardy
Doctor ..... Gerard McDermott
Music by Brendan Ratliff.
Director, Eoin O'Callaghan.
Producer, Gemma McMullan.
Last on