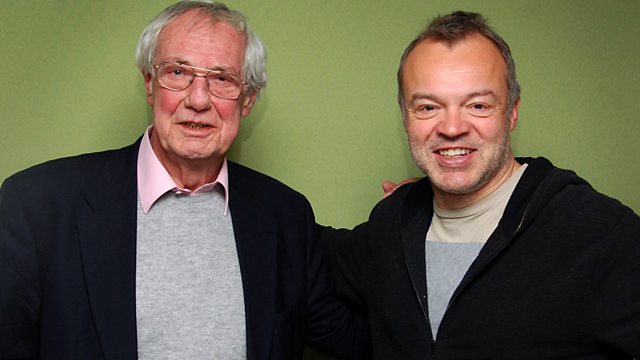 with guests Bernie Nolan and Barry Norman
"She was in the mood for chatting/just yakking"...Nolan sister, actor and all round good egg Bernie Nolan popped in to see Graham this week, and spoke about starring as 'Chicago's' Mama Norton, her family's fortunes and hanging out with Frank Sinatra.
After 12pm, a film critic who really knows his onions - pickled onions to be precise - came in for a catch up. Barry Norman discussed his 100 Greatest Films, revealed why he didn't have any friends in the film industry, and told us 'The Artist' is the only truly decent film in the running for an Oscar.
This week's Grill Graham saw Graham and Maria try to help out a listener whose birthday was always forgotten (is she perhaps a female version of Bruce Willis in 'The Sixth Sense'?) and a friend who no longer wants to eat at her friend's naff caff.
Russell in Cleethorpes was the man responsible for this week's aural atrocity in 'I Can't Believe It's Not Better'. Remember Kelly Marie's 1980 hit 'Feels Like I'm In Love'? Well, Russell didn't opt for that, but for the singer's 1981 follow-up, which was called 'Hot Love'. Tough love more like...
Julia Box in Brighton chose the latest 'Tune With A Tale', which is a real favourite song of Graham's as it happens - ABBA's 'The Day Before You Came'.
And with his proposed journey to Manchester in jeopardy because of the weather, Graham rallied his listeners for 'Snow-watch'. It was like watching rain fall, except on the radio. Actually, it was a lot better than we're painting it here.
Last on