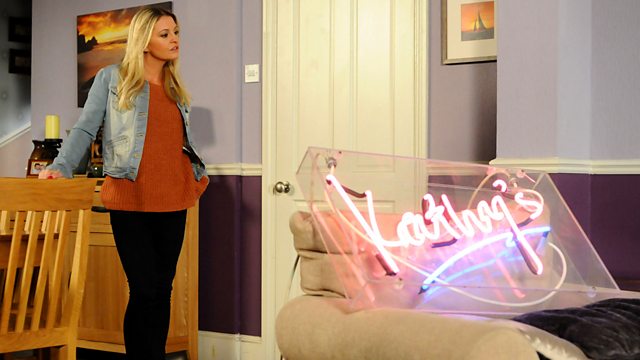 26/01/2012
Lucy attempts to persuade Jane to stay in Walford. Ian plugs in the 'Kathy's' sign, optimistic Shirley will run Phil's businesses into the ground. Faced with the reality of the school run, Mandy persuades Ian to buy her a car. Lucy's gleeful when Bobby locks Mandy out; Mandy enlists Jane's help and by the time Lucy returns with Ian all is well.
Masood talks to Jane about her imminent departure. After Tanya's hospital visit, she and Jane drink in the Vic. Tipsy, Tanya tells Jane she loves her. She talks about her non-existent sex life and her fears Max will stray. Joining them, Masood forces Jane to tell Tanya she's leaving. Hurt, Tanya walks out. Jane later visits Tanya who lashes out, claiming she doesn't need Jane and, in turn, Jane brands Tanya selfish. Jane goes, their friendship left in ruins. Both women fight back tears.
Phil's still refusing to see Shirley. Janine and Shirley are infuriated when Derek reveals he'll be running R&R. Shirley drums up business for the Arches then discovers Derek's looking after things there too. Derek insists Ben and Jay sort out their differences. Grudgingly, Jay shakes Ben's hand.
Max and Lauren worry about Tanya's hospital appointment, Tanya insists it's routine, Jane's going with her. Put to work at the car lot, Lauren's scathing about Max's career choice but is humbled when Max explains he does it for the family.
Kim starts up a mobile beautician service. Bianca persuades Shirley to take her back on at the café. When Kim brings Morgan to the Vic, Ray happily introduces him to his daughter, Sasha. Kim attempts to bond with Sasha. Ray invites Kim for a drink. Bianca's furious to see Morgan and Sasha together. Kim leaves; telling Ray she's had enough of men and their baggage.
Last on
Credits
| Role | Contributor |
| --- | --- |
| Jane Beale | Laurie Brett |
| Tanya Jessop | Jo Joyner |
| Max Branning | Jake Wood |
| Lauren Branning | Jacqueline Jossa |
| Derek Branning | Jamie Foreman |
| Shirley Carter | Linda Henry |
| Ben Mitchell | Joshua Pascoe |
| Jay Mitchell | Jamie Borthwick |
| Heather Trott | Cheryl Fergison |
| Janine Butcher | Charlie Brooks |
| Masood Ahmed | Nitin Ganatra |
| Ian Beale | Adam Woodyatt |
| Mandy Salter | Nicola Stapleton |
| Lucy Beale | Hetti Bywater |
| Bobby Beale | Alex Francis |
| Bianca Butcher | Patsy Palmer |
| Kim Fox | Tameka Empson |
| Patrick Trueman | Rudolph Walker |
| Ray Dixon | Chucky Venn |
| Morgan Butcher | Devon Higgs |
| Shenice Quinn | Lily Harvey |
| Sasha Dixon | Rebecca Sanneh |
| Executive Producer | Bryan Kirkwood |
| Director | Nicky Higgens |
| Writer | Matt Evans |
Shocked Sharon confronts "K"