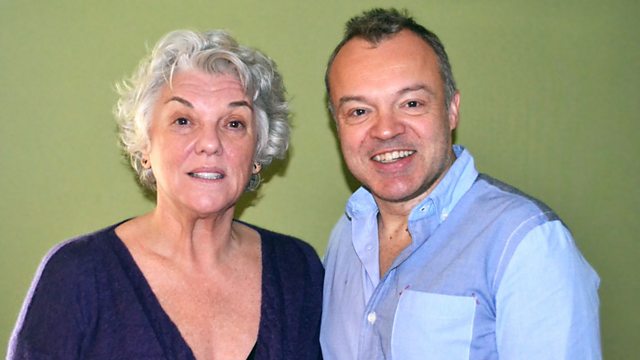 with Tyne Daly and Russell Tovey
Actress Tyne Daly talked about playing Maria Callas in her West End debut, 'Master Class', a role she's played on Broadway. She also talked about starring in 'Cagney & Lacey' alongside Sharon Gless, what she said to the flasher in the opening credits of the hit cop show, and how she's thrilled to be working in London, the home of the English language.
After 12pm, star of 'Being Human' and 'Him & Her' Russell Tovey dropped in to talk about his latest stage role in 'Sex With A Stranger'. Russell talked about getting his big break in 'The History Boys and how Timothy Dalton gave him a shirt at the end of their run in 'His Dark Materials' at the National Theatre back in 2004.
In this week's 'Grill Graham', Bernie, a cleaner, was seeking advice on how to proceed after being accused of stealing from one of his clients. And just before Christmas, Simon in Cambridge let a friend of his stay while he looked for a new job and a flat. The problem being that he doesn't seem to be very proactive on either fronts, and Simon wanted to know how to get rid of him. Graham and Maria did well to keep their concentration on these pressing problems because of the constant distraction from men (one cute, one not) walking past the studio windows. Apparently they were cleaning filters.
'I Can't Believe It's Not Better' was chosen by John Whapshott in Wiltshire. 'Classic' by Adrian Gurvitz, a Top 10 hit from 1982, was actually quite popular with listeners. And this week's 'Tune With A Tale' was Tom Petty's 'Into The Great Wide Open', the choice of Jeff Lloyd in Maidenhead. Jeff told Graham about how he was a judge on the Zambian version of 'Pop Idol'. A claim to fame if ever there was one!
Last on