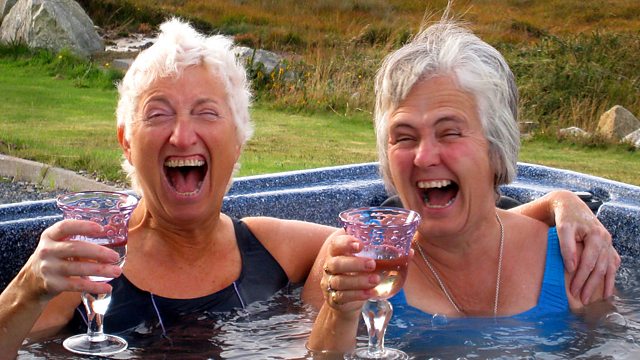 Friends through Thick and Thin
An exploration of female friendship through the moving stories of three sets of friends - when times are tough it's often friendships which sustain. This programme tells the story of three female friendships which have weathered the years. In a tie-in with Woman's Hour, we asked listeners to send their stories.
We hear from Jean and June, who first met in the ladies' at work 65 years ago; they started a business together, lived on a boat, then started a commune with husband and son and mother in tow; now, they are living next door to each other - widowed, with each other as company.
The second couple, Geraldine and Catherine, also built a business - but as it became more and more successful, the strains started to show. There was a rift, and then a rupture which lasted ten years. They tell the story of how and why they came back together.
Finally, we hear the extraordinary story of the most precious gift one friend can give another. Sue and Sarah were old friends; when Sarah's kidney began to fail, Sue decided the obvious thing was to donate one of hers. Sarah refused. Sue persisted, for two years. She won, the operation was a success, but how did it affect their relationship?
Through these stories we explore the complexity of female friendship: intimacy vs possessiveness; support vs competition. There's lots of affectionate bickering, and some music from Judy Garland.
Following on from this programme, a special edition of Woman's Hour will explore the psychology of female friendship from childhood through to old age.
Producers: Elizabeth Burke and Kim Normanton
A Loftus Audio production for BBC Radio 4.