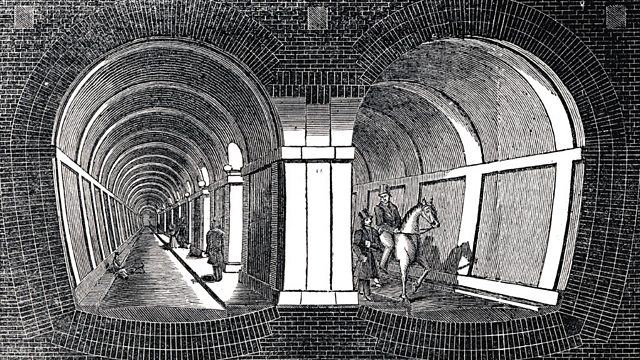 Crossrail/Brunel's Thames Tunnel
Listen in pop-out player
Jonathan Freedland takes the Long View of the fate of grand building projects at times of economic uncertainty.
The importance of major transport infrastructure schemes is much in the headlines, with the Government's confirmation of plans to build a new high speed rail link between London and Birmingham. But while the reality of an HS2 line is still some way off, a very real project is now well underway beneath London, carving out the massive London Crossrail network, which will link Heathrow Airport with the financial heart of the capital.
This scheme has taken many years for work even to start. But, as Jonathan discovers, such struggles have a long history.
Back in the 1820s, a similarly grandiose scheme - a North-South tunnel under the River Thames - was getting underway, and hitting problems and protestations.
Jonathan is joined by contributors including leading columnist Sir Simon Jenkins, and former Transport Secretary and Chancellor of the Exchequeur Alistair Darling, who gave Crossrail the green light.
Is the 'can-do' attitude of the great Victorian engineers something we can learn from today - or was it really little more than a myth?
Producer: Tom Alban.
Image: Cross-section showing impression of Marc Isambart Brunel's double arched masonry Thames Tunnel built 1825-1843. Originally a roadway, it is still used by electric trains between Whitechapel and New Cross, London. Woodcut, 1832.
Last on