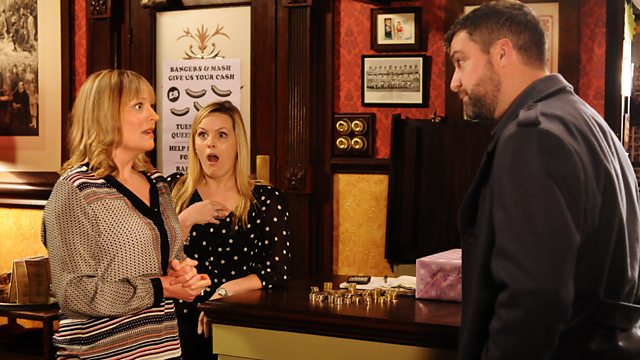 17/01/2012
Bianca insists Ricky leave today. Whitney's furious to learn that Ricky slept with Mandy. Ricky wants to prove to Bianca she's the only one that matters and gets a tattoo saying 'Bianca Forever'. Bianca's unimpressed. Bianca admits she still loves Ricky, but they can't undo their mistakes. Bianca tells the kids Ricky has a job in France, Liam's suspicious and pleads with Ricky to stay. Whitney bids Ricky goodbye, Tiffany wonders why she's crying when Ricky's only going to Paris. The family escorts Ricky to the tube station, the kids wave goodbye. Supported by her family, Bianca heads home.
Derek emotionally thanks Max for stopping him attacking David and apologises for hitting Carol, pleading for one more chance.
Lucy arranges an interview for Jane on Walford FM promoting her Bangers and Mash cancer fundraiser at the Vic. Janine promises to double their total. Tanya gets drunk on two glasses of wine. Jane's surprised when Gethin Williams, her tutor from an haute cuisine course, arrives and offers her an interview as a sous chef at his new restaurant.
Hungover Mandy panics when she can't find the pills. Ian arrives home to find Mandy and Lucy searching the house. Ian's furious when Bobby discovers the pills planted in his schoolbook. Mandy explains she wanted Lucy to think she was cool. Lucy's irritated when Ian forgives Mandy.
DCI Marsden visits the Arches and insists Ben accompany her to the station. Ben's emotional when she shows him CCTV footage of Stella's death and questions him. Ian urges him to say that Phil told him Stella killed herself. Phil's worried to learn DCI Marsden's investigating Stella's death.
Andrew apologises to Heather and confesses he loves her. Heather feels the same.
Alfie tells Jane that Jean's away visiting Charlie as he's not well.
Last on
Credits
| Role | Contributor |
| --- | --- |
| Bianca Butcher | Patsy Palmer |
| Carol Jackson | Lindsey Coulson |
| Whitney Dean | Shona McGarty |
| Ricky Butcher | Sid Owen |
| Janine Butcher | Charlie Brooks |
| Liam Butcher | James Forde |
| Tiffany Butcher | Maisie Smith |
| Morgan Butcher | Devon Higgs |
| Ian Beale | Adam Woodyatt |
| Mandy Salter | Nicola Stapleton |
| Lucy Beale | Hetti Bywater |
| Jane Beale | Laurie Brett |
| Tanya Jessop | Jo Joyner |
| Lauren Branning | Jacqueline Jossa |
| Max Branning | Jake Wood |
| Derek Branning | Jamie Foreman |
| Ben Mitchell | Joshua Pascoe |
| Jay Mitchell | Jamie Borthwick |
| Phil Mitchell | Steve McFadden |
| Alfie Moon | Shane Richie |
| Patrick Trueman | Rudolph Walker |
| Executive Producer | Bryan Kirkwood |
| Director | Jamie Annett |
| Writer | Sally Abbott |
| Denise Fox | Diane Parish |
| Heather Trott | Cheryl Fergison |
| Andrew Cotton | Ricky Grover |
| Bobby Beale | Alex Francis |
| DCI Marsden | Sophie Stanton |
| Gethin | Bradley Freegard |