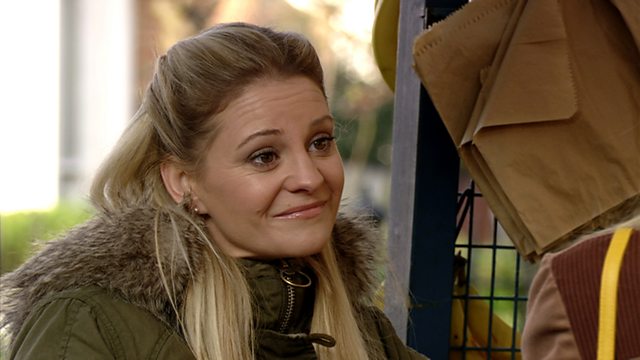 16/01/2012
Morgan worries that David's missing and Ricky's sleeping on the sofa. Bianca tells Carol she'll never speak to David again. Tiffany and Morgan make a 'Pat loved this place' plaque; Ricky wants to put it up on the Square as a family. Seeing Bianca's unease, Carol sends Ricky out with the kids and busies Bianca with sorting Pat's clothes. Bianca sobs that she loves Ricky, Carol thinks Bianca shouldn't have to put up with her marriage and warns her to take control of her life. Later, Carol's stoic front crumbles as she sobs about David in Max's arms. Bianca arrives home to find a hopeful Ricky waiting with pork chops. Bianca tells him it's over.
Lauren's hungover. When Abi reveals Lauren's past drunken misdemeanours, Tanya determines to take Lauren to the doctor. Lauren apologises to Carol for her behaviour at Pat's funeral. Discovering Lauren's blank schoolbook, Tanya rings the school and learns she's been bunking. At the surgery, the doctor wonders how the family's coping with Tanya's illness. Lauren admits it's been stressful. Tanya's horrified when the doctor suggests she and Lauren talk in private. Later, Tanya apologises for making Lauren keep her cancer a secret.
Lucy's annoyed when Mandy interrupts her time with Ian. Lucy's eager to see Lauren but she's grounded. Lucy takes digs at Mandy, Mandy reveals she and Ian already had a wedding she didn't show up for. In the Vic, Lucy's affronted to see Lauren with Whitney. Mandy gets drunk and agrees to get pills for Lucy. Ian returns to find Mandy passed out. As he tends to Mandy, Lucy takes the pills from Mandy's bag.
Tamwar comes home from hospital, quiet and in pain. Zainab's baked a lemon drizzle cake for Afia to give to him but he's unresponsive.
Last on
Credits
| Role | Contributor |
| --- | --- |
| Bianca Butcher | Patsy Palmer |
| Ricky Butcher | Sid Owen |
| Carol Jackson | Lindsey Coulson |
| Max Branning | Jake Wood |
| Tanya Jessop | Jo Joyner |
| Lauren Branning | Jacqueline Jossa |
| Lucy Beale | Hetti Bywater |
| Mandy Salter | Nicola Stapleton |
| Ian Beale | Adam Woodyatt |
| Jane Beale | Laurie Brett |
| Cora Cross | Ann Mitchell |
| Zainab Khan | Nina Wadia |
| Masood Ahmed | Nitin Ganatra |
| Afia Masood | Meryl Fernandes |
| Tamwar Masood | Himesh Patel |
| Whitney Dean | Shona McGarty |
| Abi Branning | Lorna Fitzgerald |
| Tiffany Butcher | Maisie Smith |
| Morgan Butcher | Devon Higgs |
| Dr Hugh | Jessica Tomchak |
| Executive Producer | Bryan Kirkwood |
| Director | Jamie Annett |
| Writer | Rebecca Wojciechowski |