Add music you love and enjoy it with
Choose our Country Showstopper tonight!

OPTION A :
Crystal Gayle – Don't It Make My Brown Eyes Blue

OPTION B :
Glen Campbell – Rhinestone Cowboy

OPTION C :
Lady Antebellum – Just A Kiss

OPTION D :
Jim Reeves – He'll Have To Go

Choose your Showstopper by texting the word COUNTRY plus your choice A, B, C or D – ***with no gaps *** - to 88291.

Texts are charged at your standard message rate.

You have until 6.45 tonight…then join Bob Harris after 7 for the best in Country...

Beef Stroganoff Recipe

Beef Stroganoff by Jamie Oliver

Serves 4

Prep time: 20 mins

Cooking time: 15-20 mins


Ingredients

• 500g fillet steak
• 1 tsp paprika
• Zest of 1 lemon, grated
• 1 red onion, chopped
• 1 garlic clove, chopped
• Olive oil
• 2 handfuls of wild mushrooms,
cleaned & torn
• Knob of butter
• Small glass of brandy
• 50ml sour cream
• 2–3 flat-leaf parsley sprigs,
leaves picked & chopped
• Bread & gherkins, to serve

Method

1. Place the beef between 2 sheets of cling-film & bash with a rolling pin until ½cm thick, then cut into finger-width slices.

2. Mix the paprika, lemon zest, salt and pepper, & use to dust the beef.

3. In a large frying pan over a low-medium heat, fry the onion & garlic till softened.

4. Turn up heat & add the mushrooms & butter, sautéing until the mushrooms are golden brown, & reserve.

5. Add a little oil to the pan, fry the beef for 2 mins, turning, till browned but still pink inside.

6. Stir in the mushroom-onion mixture, add the brandy & reduce for 1 min or till almost disappeared.

7. Remove from heat & stir in the cream & parsley.

8. Serve with bread & gherkins.


Nigel's Top Tip

It's a pretty obliging dish, so you can serve it with pappardelle, white rice, or fresh crusty white bread with plenty of holes in it.

The key to this dish is the speed of cooking, so use a good quality meat & don't let it linger cooking in the pan.

Confession: Karma Police

Father Simon and the joyous collective

I have noticed that a lot of your confessions mention psychological effects on children, so before I start can I just mention that the following was not intentional and both my daughters have no recollection of this event but have a healthy respect for the police and the difficult job they do - but perhaps the following wasn't something that falls under their normal job description.

I want to take you back 25 years to when my two daughters were 4 and 3. Looking at them you would have thought butter wouldn't melt, blond curls, big eyes, cute smiles and an ability to flirt that they definitely didn't get from their mother.

However, this perfect image wore thin when my then husband was working away from home for an extended period. I was left at home with two small children and despite my best efforts with toys and games, helping mummy bake, and lots of glue, pasta and sparkly stuff etc, on the day in question all they wanted to do was fight and scream at each other.

Now anyone who has small children will know that piercing scream that goes right through you like fingernails on a blackboard, and no amount of "play nicely, mummy's got a headache" or threats of going to bed early were having any effect.

At the end of my tether I decided enough was enough and said to the girls that I was very cross and that I was going to ask my friend the policeman to come and take them away (I didn't have any friendly policeman but they didn't know that). This was before the time of cordless or mobile phones so I picked up my tasteful green Trimphone, you are all far too young to remember these, but for your listeners who aren't, they will remember the handset was connected to the phone by a curly wire and if you held down a little button you could dial a number without the phone connecting. So I did.

After allowing a few moments for 'the police' to pick up the phone, I had a 'conversation' explaining I had two naughty little girls who wouldn't do what their mummy said and could they come and take them away. I did a few of those verbal nods, you know the type of thing - yes, no, mmm, yes, I'm in all day, see you soon, thank you. It had gone a bit quiet as the girls listened to this one-sided conversation and, hands on hips, I said 'right get your shoes on, they'll be here soon'.

Not sure whether I meant it or not they stood there looking a bit confused while a panda car pulled up outside with two policeman in. Two little girls suddenly ran and sat on the settee arms folded looking totally innocent saying "please don't let them take us, we're so sorry Mummy!"

Me? I was panicking - had I inadvertently connected the call? Was I going to be arrested for wasting police time? I turned to the girls showing my best poker face, fixed them with a 'be good' comment, and went to answer the front door.

"Morning madam" the rather young policeman said. "Your Neighbourhood Watch leaflets, can you pass them on for us please?" "Of course" I said, but then when he turned to go back to his car, I closed the door VERY gently and said in my best grateful voice "thanks for coming officer but the girls have said they are going to be good. Now I am really sorry you have had a wasted journey - yes I will call if I have any more problems, goodbye."

I then walked back into the room where the girls were and waved in what I hoped was a nonchalant manner at the departing panda car. Unsurprisingly for quite some time after that I only had to go near the phone if they were being naughty or mention "do I need to call my friend the policeman" for their behaviour to improve with lightning speed!

So father Simon, I ask for forgiveness from my daughters for allowing them to believe that the police take away naughty children, and from the police who do a wonderful job and can do without harassed mums using them as a threat rather than someone to go to for help!

Mum

P.S. As one of my daughters briefly went out with a policeman in her early twenties I don't think there was any lasting damage!
Watch Simon's Edinburgh Book Club Special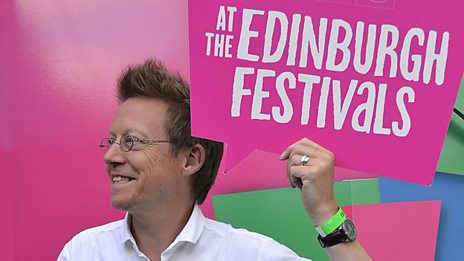 See Simon host a special Radio 2 Book Club live at Potterrow.
Podcasts
Simon Mayo considers listeners' darkest secrets and worst misdemeanours, as they beg for his…

The best bits of Simon Mayo Drivetime on BBC Radio 2, with star guests, audience interactivity,…