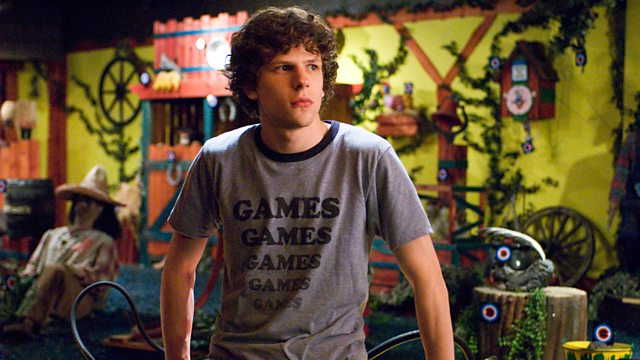 Adventureland
Comedy drama. A high school graduate spends the summer working at the local amusement park to save up money for college. His summer takes a turn for the better when he meets and falls for a co-worker.
Adventureland on BBC iPlayer
This programme is not available on BBC iPlayer. We always aim to offer our programmes to stream and download for 30 days; however for legal or rights reasons this isn't always possible.
Credits
| Role | Contributor |
| --- | --- |
| James Brennan | Jesse Eisenberg |
| Em Lewin | Kristen Stewart |
| Mike Connell | Ryan Reynolds |
| Joel | Martin Starr |
| Mr Brennan | Jack Gilpin |
| Mrs Brennan | Wendie Malick |
| Tommy Frigo | Matt Bush |
| Lisa P | Margarita Levieva |
| Paulette | Kristen Wiig |
| Bobby | Bill Hader |
| Arlene | Kelsey Ford |
| Eric | Michael Zegen |
| Brad | Ryan McFarland |
| Velvet Touch Manager | Todd Cioppa |
| Rich | Stephen Mast |
| Adult Contestant | Adam Kroloff |
| Molly Hatchet T-Shirt Guy | Kevin Breznahan |
| Sue O'Malley | Paige Howard |
| Pete O'Malley | Dan Bittner |
| Munch | Barret Hackney |
| Foreigner Tribute Band Singer | Russell Steinberg |
| Foreigner Tribute Band Member | Eric Schaeffer |
| Ronnie Connell | Vanessa Wanger |
| Mr Lewin | Josh Pais |
| Writer | Greg Mottola |
| Director | Greg Mottola |
| Producer | Anne Carey |
| Producer | Ted Hope |
| Producer | Sidney Kimmel |