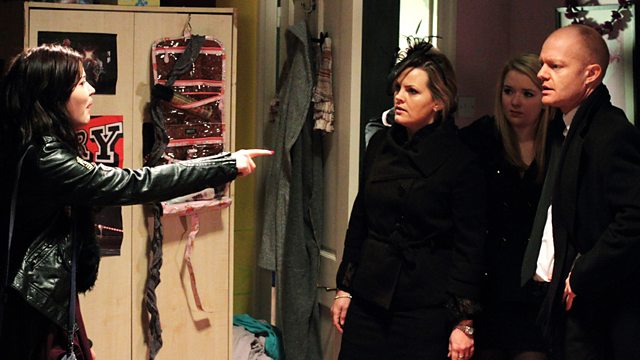 13/01/2012
Tiffany gives David Pat's Clacton ferris wheel souvenir. The hearse arrives. Derek dismisses Max's suggestion he shouldn't go to Pat's funeral. During the service, Ricky breaks down during his eulogy and can't continue; Janine speaks instead. Later, as Pat's coffin's lowered into the ground, Bianca tells Ricky she loves him. After the family throw earth and Tiffany's letter into the grave, Mandy scatters white petals, a reference to Kira. Bianca notes a look between Mandy and Ricky. Derek tells David he's got one hour to leave. Derek's seething when Carol reveals she and David are together and she's leaving with him. Carol packs. At Janine's request, David makes a speech during the wake. Derek visits Carol and explains why he hates David; David made him doubt the woman he loved. Jealous, Derek hit her and was stabbed by her brothers. Derek hits Carol and throws her suitcase onto the floor; if she packs again he'll kill David. At the Vic, Derek tells Jack to get Max and meet him in the Arches. He beckons Michael. Ian tells Bianca about Ricky and Mandy's dead baby. Distraught, Bianca tells Ricky they're over. David comforts Bianca and then tells her about his relationship with Carol, revealing they're leaving. Shocked, Bianca asks if he's certain he won't let Carol down, she's fragile. David hangs the ferris wheel in his car. Michael phones David, claiming Derek has Carol at the Arches. David rushes there and finds himself surrounded by the Branning brothers. Max advises David to leave Walford, but Derek pulls out a knife, he's got other plans. There's a struggle and the knife clatters to the ground. Max leads David away, while Jack stops Derek following. When David insists he's not leaving without Carol, Max asks who he's doing it for, him or her? Emotional, Carol and Bianca say goodbye. David watches as Carol crosses the Square, pausing to fix Tiffany's ribbon and hug her. As Carol hurries towards the car, David makes a decision. He accelerates away down Bridge Street. Carol trips and falls and David drives away in tears.
Tanya and Max are stunned to see Lauren drunk and throwing up behind a gravestone. They later march her out of the wake and put her to bed.
Kat can't face going into the church for Pat's funeral and joins Jack by James' grave.
Lucy's appalled that Mandy and Ian are engaged.
Last on
Credits
| Role | Contributor |
| --- | --- |
| Carol Jackson | Lindsey Coulson |
| David Wicks | Michael French |
| Derek Branning | Jamie Foreman |
| Jack Branning | Scott Maslen |
| Michael Moon | Steve John Shepherd |
| Bianca Butcher | Patsy Palmer |
| Ricky Butcher | Sid Owen |
| Janine Butcher | Charlie Brooks |
| Ian Beale | Adam Woodyatt |
| Mandy Salter | Nicola Stapleton |
| Lucy Beale | Hetti Bywater |
| Lauren Branning | Jacqueline Jossa |
| Cora Cross | Ann Mitchell |
| Tyler Moon | Tony Discipline |
| Anthony Moon | Matt Lapinskas |
| Roxy Mitchell | Rita Simons |
| Whitney Dean | Shona McGarty |
| Liam Butcher | James Forde |
| Tiffany Butcher | Maisie Smith |
| Morgan Butcher | Devon Higgs |
| Sgt. Davis | Brendan Fleming |
| Executive Producer | Bryan Kirkwood |
| Director | Clive Arnold |
| Writer | Simon Ashdown |