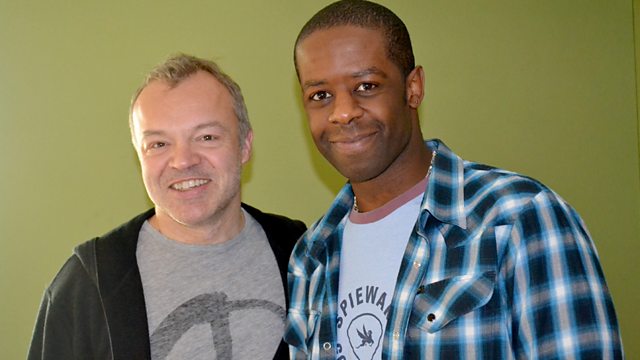 with Adrian Lester, John Simm and Philip Glenister
There was a trio of great British actors joining Mr Norton this week. First up was Adrian Lester, star of BBC One's 'Hustle' which has just returned for its eighth and final series. Then Philip Glenister and John Simm popped in to talk about Sky1's 'Mad Dogs' and the struggles of filming in stunning, hot locations. The life of an actor, who'd want it?
In 'Grill Graham', Jock in Scotland revealed that he's had a crush on his neighbour for 15 years and wasn't sure what to do. The general consensus was, "Move on Jock... you're wasting your life pining after this woman!". And Julie in Japan was sick and tired of a moaning colleague who she travelled to work with on a train. "Julie, get a different train" was the advice.
'I Can't Believe It's Not Better' was chosen by Ian R. who hails from Netherton in the West Midlands. His dire disc was 'Brother Louie' by German Synthpop duo Modern Talking. And this week's 'Tune With A Tale' came courtesy of Valerie Woodcock in Chartham. 'Sorry You Asked' by American country music star Dwight Yoakam tells the very detailed story of a collapsing relationship. The annoying thing is that just as the song gets interesting - with lawyers becoming involved - it fades!
Last on