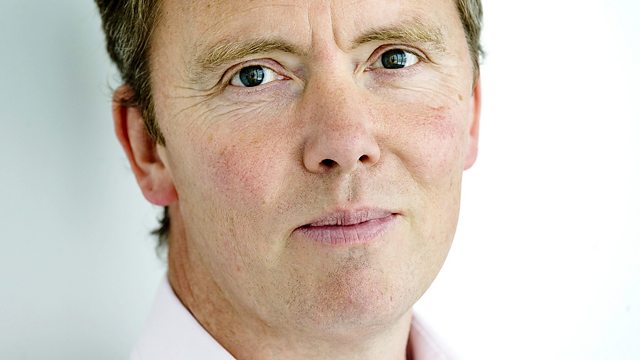 1/8
Bill Whiteford returns with a new series of BBC Radio Scotland's family history programme "Digging Up Your Roots", offering advice on how to research YOUR family tree and telling great ancestral tales. Bill and resident genealogist Professor Bruce Durie start by celebrating the great achievements of some of your ancestors ..
"MY ANCESTOR WAS EDITOR OF THE GLASGOW HERALD"
Katy Russell-Duff lives in Orkney and she contacted Digging Up Your Roots after reading the obituary of one particularly distinguished looking ancestor whose portrait hung in her mother's dining room. Katy's Great Great Grandfather Charles Gilchrist Russell was the Editor of the Glasgow Herald. Bill met The Herald's Chief Leader Writer Anne Johnstone to find out more about his time with the paper at the turn of the 20th Century.
ROLE OF NEWSPAPERS IN FAMILY HISTORY RESEARCH
Bill chats to Hazel Stewart is from the National Library of Scotland about the role of newspapers in family history research.
"I AM A DESCENDANT OF JOHN NAPIER"
Peter Brunning lives in Cambridge and it was his mother's side of the family that grabbed his attention when looking at his family tree. His mother always said that the family were mentioned in Burke's Peerage and were descended from John "of logarithms" Napier . Digging Up Your Roots reporter Helen Needham took a trip to Napier Tower at Napier University in Edinburgh to find out more about the life and achievements of this remarkable character.
WOULD YOU LIKE TO JOIN US ON A VISIT TO THE NATIONAL RECORDS OF SCOTLAND IN EDINBURGH?
Perhaps your New Year's resolution is to get cracking on your family tree and maybe you've been a bit intimidated by the thought of how it all works. Well we are looking for two people to join us on our visit to the records office in Edinburgh on the 19th of this month. We can get you started and show you just how easy it is to search through the births, deaths, marriages or even census records. Get in touch with us by emailing diggingupyourroots@bbc.co.uk
"JOHN LEYDEN - A TRUE POLYMATH"
Lesley Arthur lives in Ayr inherited lots of genealogy information from
her parents - but it was the possibility of being related to Dr John Leyden
that inspired her to contact Digging Up Your Roots. 2011 saw the 200th
anniversary of the death of Dr John Leyden whose achievements ranged
from poet, author, surgeon and linguist to name just a few. Marjorie
Gavin from the Borders Family History Society reveals more
about the life of this man whose heart never left the Borders.
Last on
More episodes
Previous
You are at the first episode