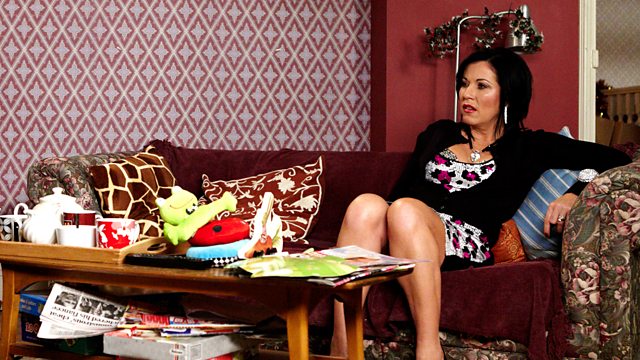 05/01/2012
Patrick disposes of Frank's confession but changes his mind following an altercation with Phil, instead handing it to Denise. Denise takes matters into her own hands when she breaks into the arches and pins Phil up against the wall with the demolition car. With years of resentment towards bad men bubbling over, Denise compares Phil to Lucas before Ben manages to stop her taking things further. Patrick later accompanies Denise to the police station where she hands over Franks confession as well as accusing Phil for the murder of Stella Crawford to DCI Marsden.
Syed suggests opening up a market stall to Amira as part of their business plan but he soon becomes aware of his wife's increasing delusions over their relationship. Anthony approaches Amira and showers her with compliments but despite enjoying the attention it's clear she is still after Syed. In the Vic, Amira kisses Syed in front of Christian, but when Syed tries to call Christian to explain a desperate Amira fakes falling down the stairs to gain Syed's attention.
Alfie sets up a fake marriage guidance session by paying an old friend to tell Kat their marriage is fine in order to get the magic back. Kat puts on a cheery facade but once alone she reveals how she used to be his princess but now he just sees the same old slapper that everyone else does.
Carol and David force Bianca to admit the truth about Ricky's one night stand with Mandy, David impressing Carol when he tries to throw Ricky out of the house. David and Carol arrange to meet for a drink but David is unaware that Carol has witnessed him in a compromising position with a flirtatious Roxy. Despite going home with her, David makes his excuses, leaving Roxy frustrated.
Last on
Credits
| Role | Contributor |
| --- | --- |
| Denise Fox | Diane Parish |
| DCI Marsden | Sophie Stanton |
| Phil Mitchell | Steve McFadden |
| Shirley Carter | Linda Henry |
| Ben Mitchell | Joshua Pascoe |
| Jay Mitchell | Jamie Borthwick |
| Syed Masood | Marc Elliott |
| Amira Masood | Preeya Kalidas |
| Christian Clarke | John Partridge |
| Roxy Mitchell | Rita Simons |
| David Wicks | Michael French |
| Carol Jackson | Lindsey Coulson |
| Bianca Butcher | Patsy Palmer |
| Ricky Butcher | Sid Owen |
| Patrick Trueman | Rudolph Walker |
| Kat Moon | Jessie Wallace |
| Alfie Moon | Shane Richie |
| Anthony Moon | Matt Lapinskas |
| Liam Butcher | James Forde |
| Tiffany Butcher | Maisie Smith |
| Gerry | Paul Reynolds |
| Aaron | Robert Curtis |
| Executive Producer | Bryan Kirkwood |
| Director | Piotr Szkopiak |
| Writer | Jeff Povey |