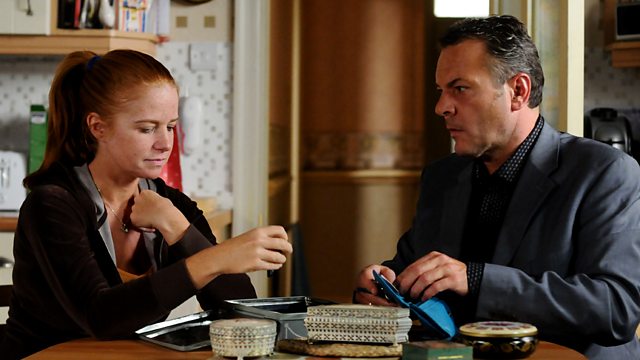 03/01/2012
Denise is on a mission as she plasters the Square with flyers brandishing Phil a murderer. Shirley enlists Ben to get rid of them before Phil gets up before providing the boys with an old car to fix up for a demolition derby. The moment is ruined when Phil discovers one of Denise's flyers, leaving it down to Shirley to sort the situation. As Denise continues her crusade in the Vic, Shirley approaches her, explaining that Kevin knew about the cut and shuts himself, recalling that in his final moments he was only thinking of Denise and not avenging Phil. Patrick takes a shaken Denise home.
Alfie surprises Kat by announcing he's booked them a marriage guidance session but finds himself heading to the session alone when Kat refuses to go. Alfie struggles with the intimate questions about his marriage before insisting his problems aren't that big and leaving. Bumping into Kat outside, Alfie pretends the councilor was a no show, causing Kat to suggest this must be a sign they're going to be okay.
As the Butchers' start making funeral arrangements Janine and Ricky are stunned to discover a letter from Frank confessing to his and Phil's involvement in the car-lot fire. When Ricky drops the letter it is soon found by a visiting Patrick who now has everything Denise needs to send Phil down for good.
The Masoods prepare to go and visit Tamwar but Afia remains reluctant. At the hospital Tamwar is in good spirits until he sees Afia, telling his family to get her out, insisting that he doesn't know who she is anymore.
Jane and Christian go on a date with two brothers but Christian only keeps up the pretense of a good time to make Syed jealous.
Last on
Credits
| Role | Contributor |
| --- | --- |
| Patrick Trueman | Rudolph Walker |
| Phil Mitchell | Steve McFadden |
| Shirley Carter | Linda Henry |
| Denise Fox | Diane Parish |
| Alfie Moon | Shane Richie |
| Kat Moon | Jessie Wallace |
| David Wicks | Michael French |
| Bianca Butcher | Patsy Palmer |
| Ricky Butcher | Sid Owen |
| Janine Butcher | Charlie Brooks |
| Carol Jackson | Lindsey Coulson |
| Zainab Masood | Nina Wadia |
| Masood Ahmed | Nitin Ganatra |
| Tamwar Masood | Himesh Patel |
| Afia Masood | Meryl Fernandes |
| Syed Masood | Marc Elliott |
| Christian Clarke | John Partridge |
| Jane Beale | Laurie Brett |
| Jean Slater | Gillian Wright |
| Ben Mitchell | Joshua Pascoe |
| Jay Mitchell | Jamie Borthwick |
| Aaron | Robert Curtis |
| Miranda Powell | Victoria Pritchard |
| Executive Producer | Bryan Kirkwood |
| Director | Piotr Szkopiak |
| Writer | Jeff Povey |