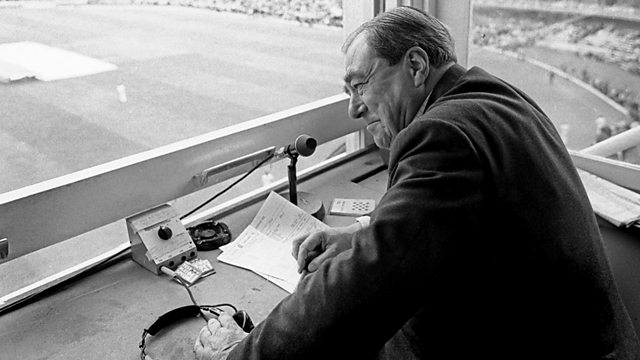 John Arlott: Cricket's Radical Voice
This is a programme to mark the twentieth anniversary of the death of John Arlott.
It is not an exercise in nostalgia about a man universally considered to be the greatest cricket commentator and 'the voice of an English summer' it is an exploration of Arlott as a political figure both inside and outside the world of cricket.
John Arlott's politics can best be summed up as those of a radical liberal, and he twice stood unsuccessfully as a parliamentary candidate for the Liberal Party. But he would have found obedience to the party whip difficult, and he rarely adopted a party political stance during the many years that he appeared on the panel of the BBC Home Service's Any Questions. He appeared with such people as Richard Man, Michael Foot and a young Margaret Thatcher; and he attacked the political orthodoxies of both left and right. He always championed the 'common man' against the power or money or privilege.
His political bravery was most obvious within the deeply conservative world of English cricket. He challenged its leaders prejudices on both race and class. He was responsible for bringing Basil D'Oliveira to England, and we broadcast - for the first time - the correspondence between the two men in 1960. He refused to commentate when white South African teams came, and he was centrally involved in the Stop The Tour campaign in 1970. We interview Peter Hain about Arlott's influence. He also supported the Professional Cricketers Association - the players' trade union - and said that being elected its first President was the greatest honour ever shown him.
The programme uses archive from the BBC and beyond. Written and presented by Mark Whitaker.
Producer: Mark Whitaker
A Square Dog Radio production for BBC Radio 4.
Last on