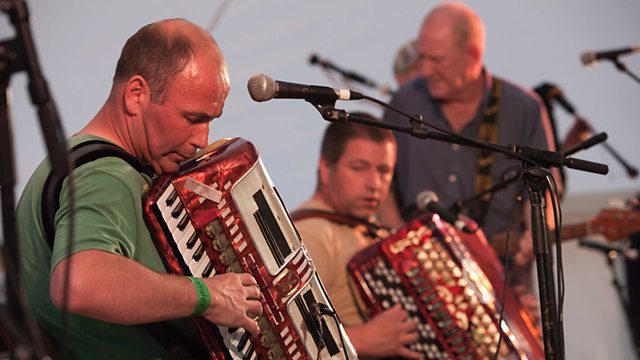 Beware the Vatersay Boys/Balaich Bhatarsaigh
Bheir am prògram 'Bi faiceallach air na Vatersay Boys' cothrom do dhaoine fhaicinn ciamar da-rìribh a tha saoghal fear dhen na còmhlain-ciùil ceilidh as ainmeil an Alba. Chì sinn Micheal, Donnie, Andy agus Joe, a deanamh an cuid obrach àbhaisteach mar phosta, fear-bhinichean agus iasgair. An toiseach, chì sinn ceilidh aighearach feasgar ann an taigh-shèinnse ann am Bàgh a Chaisteil, an uairsin cuirm mòr air an àrd-urlar aig Barrafest. Chan ann tric a tha cuisean samhach air an rathad comhla-ri na Vatersay Boys, le spòrs agus fealla-dhà air agus far an àrd-urlar còmhla-riutha. Agus a dh' aoindeoin ceithir manaidsearan, chan eil e furasda dhaibh a bhith cumail ri clàr-ama. Bidh bràthair Donnie, Mick MacNeill a b' àbhaist a bhith sa chòmhlan Simple Minds, cuideachd a toirt taic dhan na balaich 'se ag obair na einnseiniar-ceol. Chì sinn na balaich a' clàradh òran neo dhà san
studio còmhla ri-san ann am Bhàtarsaigh, ann an seada air a bheir cumadh ri seada-phleanaichean. Aig toiseach an Dùbhlachd ni an còmhlan air Glaschu, airson a chuirm mhòr bhliadhnail aca ann am Barrowland's Ghlascha.
The boys give exclusive access to their lives as they go about their day jobs as postman, bin man and fisherman before they head out on tour around Scotland. Life on the road with the Vatersay Boys is never dull as the onstage party continues off stage, and despite having up to four managers, things don't always run to schedule! We also see the band maintain their roots with a local ceilidh in the Vatersay village hall. Not just a live act, the band have an on-board resident engineer and recording studio on Vatersay, courtesy of Donnie's brother, former Simple Minds keyboard player, Mick MacNeill. In early December the band pack up and head to Glasgow for the annual festive ceilidh.