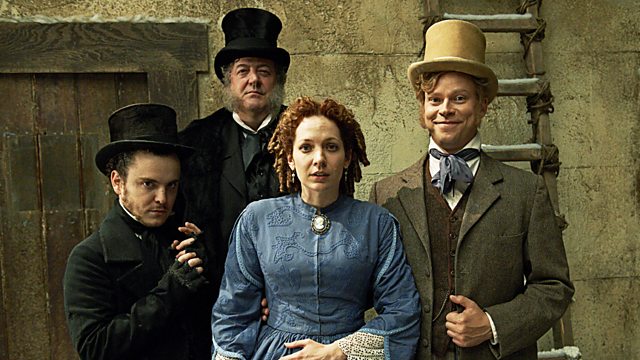 Christmas Episode
A Victorian comedy adventure in the style of Charles Dickens.
Jedrington Secret-Past is a happy family man with a successful business until on Christmas Eve Malifax Skulkingworm, a lawyer with a flinty heart and an evil hat, tells him he owes a massive debt he never knew of, and imprisons his family and shop in London's most notorious debtors prison, the Skint.
What is behind Skulkingworm's sinister plan? Will Jedrington rescue his family in time for Christmas? And is there more to the name of Secret-Past than meets the eye? All will be revealed in a tale of hidden wills, brave urchins, giant clocks, misery, joy and treacle.
Last on
New Year's Day 2013
22:00
Credits
| Role | Contributor |
| --- | --- |
| Skulkingworm | Stephen Fry |
| Jedrington Secret-Past | Robert Webb |
| Conceptiva | Katherine Parkinson |
| Miss Christmasham | Celia Imrie |
| Jolliforth | David Mitchell |
| Artful Codger | Johnny Vegas |
| Victor | Finlay Christie |
| Victoria | Ambra Lily Keegan |
| Maggotty | Pauline McLynn |
| Fearshiver | Joshua McGuire |
| Fruitcake/Mr Christmasham | Terrence Hardiman |
| Uncle Writes Prompt Thank | Richard Johnson |
| Aunt Good Spelling | Una Stubbs |
| Aunt Chastity | Judy Parfitt |
| Aunt Sobriety | Phyllida Law |
| Guard 2 | Calum MacPherson |
| Scruffy Urchin/Nudger | Sidney Johnston |
| Small News Boy | Hector McCormick |
| Harumble/Former Customer | Colin Hoult |
| Vicar of St Weddings | Mark Evans |
| Skulkingworm's Mum | Abigail Burdess |
| Policeman | Dominic Coleman |
| Ghost of Christmas Past | Dave Lamb |
| Well To Do Man | Gus Brown |
| Young Miss Christmasham | Aimee Parkes |
| Director | Ben Gosling Fuller |
| Director | Ben Gosling Fuller |
| Producer | Gareth Edwards |
| Producer | Gareth Edwards |
| Writer | Mark Evans |
| Writer | Mark Evans |