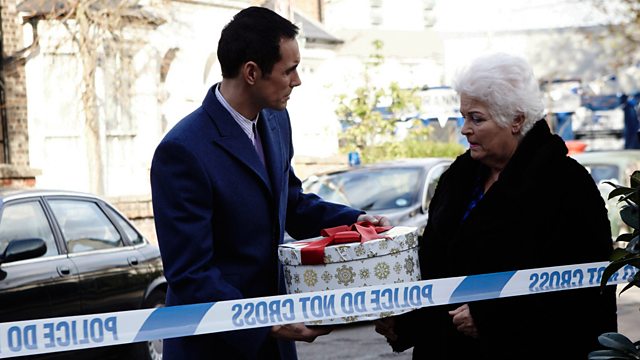 27/12/2011
After Pat refuses to buy Liam some trainers, Derek persuades him to retrieve copper piping from the B&B. Liam's scared of seeing a corpse and panics when he finds a shoe. Michael finds Pat looking unwell; he suggests they do something to get rid of Derek. Pat's furious when she sees Derek giving Liam money. Derek's probation officer visits, someone's reported that he's been stealing. Derek threatens Pat. Visiting Pat, Patrick finds her slumped on the ground, wracked with pain.
Alfie ushers a shocked Denise and Kim away when a body bag's brought out of the gutted B&B. Tyler, Anthony and Patrick worry that the fire investigators will discover the fireworks. Patrick's touched when Kim has photo of his sons retrieved from the building. At the Vic, Alfie asks the community to give money so Patrick, Kim and Denise are never without a drink. Patrick's thrilled when Pat gives him a new hat. Denise's devastated to learn Pat knew the facts surrounding Kevin's death. Feeling guilty, Anthony invites, Kim, Patrick and Denise to stay at the Moons'.
Phil's discharged from hospital and arrested for the murder of Kevin Wicks. Phil claims he made the taped confession under duress. The police reveal they've got the man who put the cut and shut cars together. Later, Ritchie tells Shirley and Ben Phil's been charged with conspiracy to deal stolen cars, he could get years.
Zainab's feeling guilty, Tamwar has full thickness burns and will need skin grafts. Afia's distressed when the police inform her Yusef's dead. Masood prays with her. Afia visits Tamwar, telling Zainab she's going to say sorry. Zainab asks Masood to come home.
Derek suggests he and Janine check out the B&B and Michael invites Janine to lunch. Janine dismisses them both; she's got work to do.
Last on
Credits
| Role | Contributor |
| --- | --- |
| Pat Evans | Pam St Clement |
| Liam Butcher | James Ford |
| Derek Branning | Jamie Foreman |
| Janine Butcher | Charlie Brooks |
| Michael Moon | Steve John Shepherd |
| Afia Masood | Meryl Fernandes |
| Tamwar Masood | Himesh Patel |
| Masood Ahmed | Nitin Ganatra |
| Zainab Khan | Nina Wadia |
| Syed Masood | Marc Elliott |
| Phil Mitchell | Steve McFadden |
| Shirley Carter | Linda Henry |
| Ben Mitchell | Joshua Pascoe |
| Patrick Trueman | Rudolph Walker |
| Denise Fox | Diane Parish |
| Kim Fox | Tameka Empson |
| Alfie Moon | Shane Richie |
| Anthony Moon | Matt Lapinskas |
| Tyler Moon | Tony Discipline |
| Ritchie Scott | Sian Webber |
| DI Savage | Andrew Whipp |
| Executive Producer | Bryan Kirkwood |
| Director | Michael Owen Morris |
| Writer | Jesse O'Mahoney |