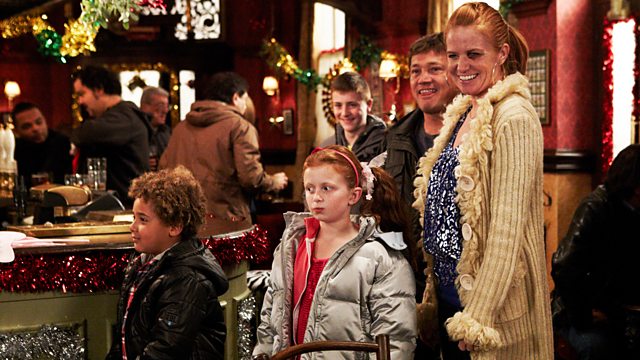 24/12/2011
Zainab's passport arrives and Yusef announces the family are flying to Pakistan the next day. Yusef helps out at the Argee Bhajee, while Tamwar briefs Rahul. Finding boarding passes in Yusef's car, Masood says he'll wait for Zainab and Kamil at the airport. Zainab has doubts; she married Yusef and should be the one to suffer. Masood insists he can't let Zainab go and they kiss, unaware Jane's watching. Yusef tells Rahul the family are staying in Pakistan indefinitely, his cousin Tariq will be managing the restaurant. Back home, Yusef takes out the rubbish and encounters Jane who's drunk and miserable. She reveals she saw Zainab and Masood together. Concealing his anger, Yusef returns to Zainab and kisses her neck. Zainab steels herself to get through the night ahead.
Determined to prove his stalker's Jack, Phil sends Shirley shopping and lies in wait with Ben, but the only visitors are Salvation Army carol singers. Ben joins Shirley at the pub. Phil finds an advent calendar on the back door with the message 'Santa's coming' in the Christmas Eve window.
Alfie's pleased when he sees Kat giving Shenice some attention at the party. He and Kat kiss. After a day resting, Jean's feeling brighter and is thrilled when Alfie lets her hold Tommy.
Bianca's shocked by the kids' lack of enthusiasm about Christmas, she and Kat throw a Christmas party in the Vic. Pat tells Ricky to make an effort. Pat makes it clear Janine's not welcome for Christmas lunch. Patrick and Pat kiss under the mistletoe. Later, Pat's thrilled to see her family looking happy.
Jane's thrilled when Christian arrives home. Syed visits Christian, Amira's unhappy to find them together. She and Christian accuse each other of trying to manipulate Syed.
The Salvation Army sing carols in the Square.
Last on
Credits
| Role | Contributor |
| --- | --- |
| Zainab Khan | Nina Wadia |
| Dr Yusef Khan | Ace Bhatti |
| Masood Ahmed | Nitin Ganatra |
| Phil Mitchell | Steve McFadden |
| Ben Mitchell | Joshua Pascoe |
| Shirley Carter | Linda Henry |
| Denise Fox | Diane Parish |
| Jane Beale | Laurie Brett |
| Christian Clarke | John Partridge |
| Syed Masood | Marc Elliott |
| Amira Masood | Preeya Kalidas |
| Kat Moon | Jessie Wallace |
| Alfie Moon | Shane Richie |
| Jean Slater | Gillian Wright |
| Mo Harris | Laila Morse |
| Pat Evans | Pam St Clement |
| Bianca Butcher | Patsy Palmer |
| Ricky Butcher | Sid Owen |
| Janine Butcher | Charlie Brooks |
| Patrick Trueman | Rudolph Walker |
| Tamwar Masood | Himesh Patel |
| Afia Masood | Meryl Fernandes |
| Liam Butcher | James Forde |
| Tiffany Butcher | Maisie Smith |
| Executive Producer | Bryan Kirkwood |
| Director | Lee Salisbury |
| Writer | Lauren Klee |
| Shenice Quinn | Lily Harvey |
| Morgan Butcher | Devon Higgs |